Hi everyone!
I recently discovered a site called Millionaire Biz Pro which looks like a scam.
However, a website's appearance is not the most important factor when it comes to determine whether a program/system is worth it or not, so I decided to look deep into Millionaire Biz Pro to know what it's really about.
If you've also come across Millionaire Biz Pro but don't know whether it's a scam or not, read this review to find out the truth about it.
.
Millionaire Biz Pro review
---
Name: Millionaire Biz Pro
Website: millionairebizpro.com
Owner: "Derek Maxwell"
Created in: 2014
Price: misleading (more on this later)
Overall Ranking: 22/100
.
---
If you're sick of scams, check out my 1st resource to make money online here!
---
.
What is Millionaire Biz Pro about?
---
The second you stumble upon the Millionaire Biz Pro sales page, a video starts playing. 
The man who narrates the sales video claims that a friend sent you to that page because that video is confidential so he doesn't want you to share it with anyone.
I don't know who he's talking about because I found that page thanks to Google, so unless he's referring to Google as my friend…  I don't think that video is private because anybody with an electronic device and an Internet connection can access to it lol.
The thing gets even better when he says that you're about to get paid today, so he's going to give you "free money"? It seems too good to be true that it's clearly a lie.
Derek Maxwell, the alleged creator of Millionaire Biz Pro, claims to be looking for 45 people to join him because he wants to expand his business.
Those people don't need any experience because he's providing all the training necessary. That system that Mr Maxwell has developped only takes 15 minutes to set up, it's automated and it's supposed to make $1000 per day to its members.
I didn't like the sales video because they don't say anything about what that system is about. You're asked to enter your name and email address before knowing how that system works and what you're going to get.
.
How does Millionaire Biz Pro function?
---
After entering your name and email address, you'll be taken to another page where you can watch another video.
According to "Derek", this system gives you ability to manipulate and flow all the online traffic to your gateway, which produces transactions that you earn money from.
What he's saying is that you'll get traffic to your landing page overnight and will earn commissions for each sale you make. This would be the same as making money through affiliate marketing.
Doesn't it sound amazing? I mean, everybody would take advantage of this system if it really worked and was that easy.
Getting high quality traffic to a website or a landing page is not that easy and can't happen overnight unless you already have a large targeted audience or have enough money to invest in PPC (Pay Per Click).
This man claims that he spends over $15,000 per month on his team and another $7,000 per month on his server, so he needs you to pay an initial fee to own the account to be the legal payee and his official partner.
When you have purchased it, you'll have to set up your domain and hosting account to receive the payments.
Millionaire Biz Pro costs $47, but if you try to leave that page, you'll have a $10 discount so the price will go down to $37, and if you try it again, the price will finally go down to $17, so this should be the final price. 
If you enter an email address, you should be taken to a checkout page to complete a form with your personal and financial information to purchase it, at least that's what it's said in the video.
But this is not what happens after you enter your email address. I tried it and had a surprise! I got taken to the My Mobile Money Pages sales page!
As you can observe below, I got led to My Mobile Money Pages through an affiliate link. I guess people behind Millionaire Biz Pro are affiliated with My Mobile Money Pages, so they'll earn a commission if you buy it.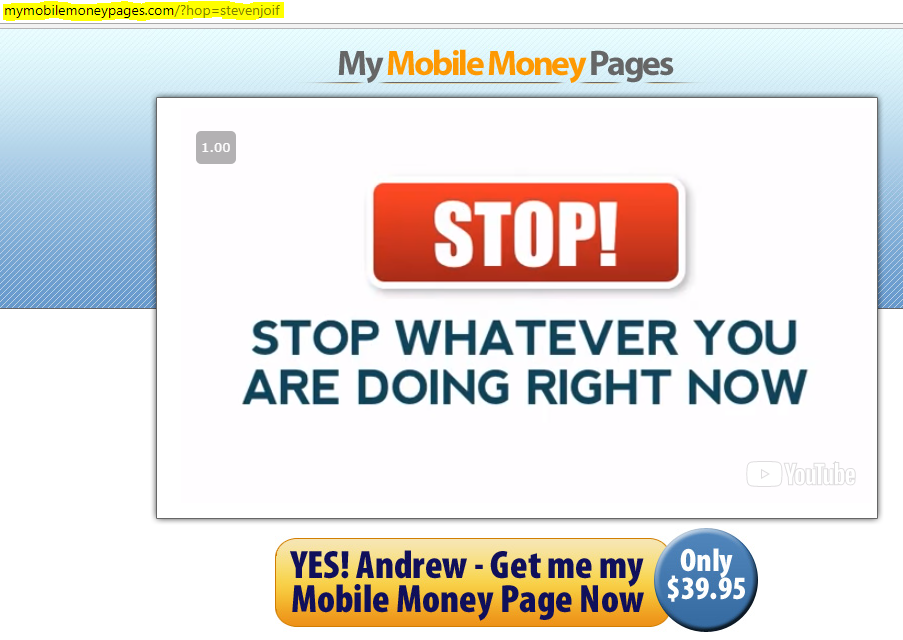 My Mobile Money Pages is an outdated product that won't help you make any money, I wrote a review where I explain why it's not worth it and you should stay away from it.
It's really misleading and confusing to be taken to a different product than the one you're looking to purchase. 
Let's say that you want to purchase jeans and when you click "add to cart", you're taken to a checkout page where appears a skirt instead of jeans. Would you like it? I clearly would be annoyed, like what about the jeans I wanted?
So the same happens with Millionaire Biz Pro. More than 20 minutes spent to watch the sales videos to be taken to a different product. 
.
Is Millionaire Biz Pro a scam?
---
If Millionaire Biz Pro delivered some training I wouldn't consider it a scam, but it doesn't deliver anything and it leads you to a different product, so I'll call it a scam.
Anyway, the whole sales page and videos contain lies and hyped up claims you need to be aware of.
.
Derek Maxwell is an invented character
---
This guy who narrates the video claims to be Derek Maxwell and have invented Millionaire Biz Pro. We're only shown a picture of him and he doesn't tell us how we can get in touch with him or where we can find more about him.
I searched for information about him but found nothing outside the Millionaire Biz Pro site. 
I found out that this picture we're shown of him is not really him.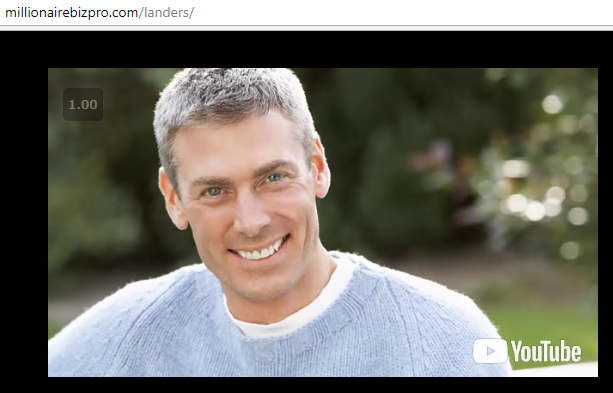 The picture above is for sale on Shutterstock: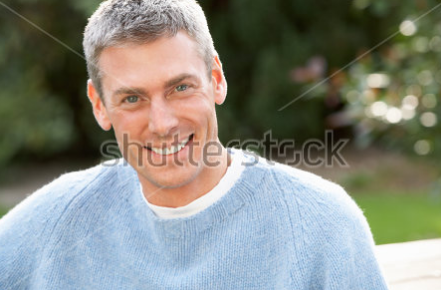 So Derek Maxwell is not the real owner of Millionaire Biz Pro. I'm sure the person who narrates the video is a voice actor. The people behind Millionaire Biz Pro remain hidden which is a big red flag.
.
The testimonials are paid actors
---
Those people who claim to have earned like $1000 per day thanks to Millionaire Biz Pro are paid actors. Everything they say it's fake. They haven't even tried this system. 
Let's see one of them: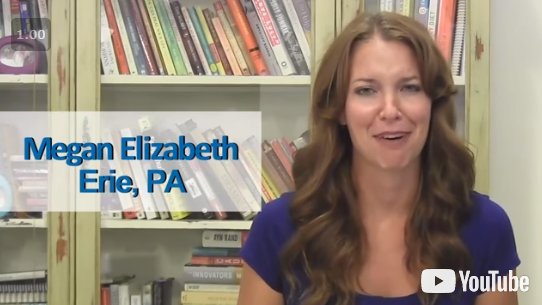 This woman above is a Fiverr actress called. She got paid for reciting what the con artists told her. 
.
The fake scarcity tactic
---
So that video is supposed to be taken down the same day you're watching it. This is fake because I watched it yesterday and today I've checked it out and nothing has changed.
They say this just to get you join as soon as possible. Apart from that, the number of spots available is also fake.
Regardless of the day you take a look at the Millionaire Biz Pro sales page, you'll see that there are only spots for 7 people. Truth be told, there are unlimited spots available. You could tell 7 people to join and then you'd see that it's still possible to sign up.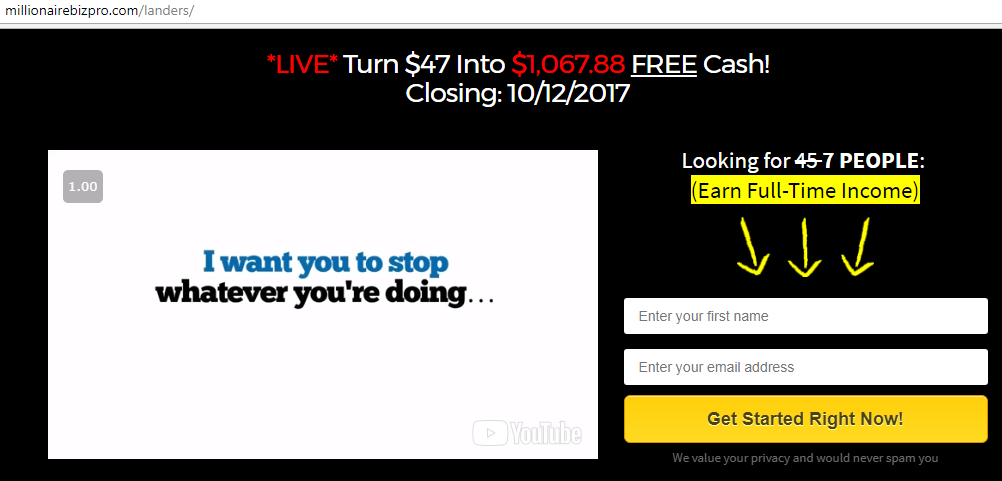 As you can see above, the day I'm writing this (October 12th 2017) the Millionaire Biz Pro sales video and page are still available. It's clear that what they say is completely false.
.
My final thoughts on Millionaire Biz Pro
---
I believe I've provided enough information and proofs that show that Millionaire Biz Pro is not worth your time or money.
The sales page and video is full of fake claims and lies, there are no real people who have made money with that system. The only ones who've made money from that system are the people behind it, who don't reveal their real identity.
Apart from that, they've used Millionaire Biz Pro to take you to another scammy product called My Mobile Money Pages without letting you know.
It reminds me of another page called EZ Money Team because they also lead you to My Mobile Money Pages, so I wouldn't be surprised if people who are behind both pages are the same.
What can you expect from people who lie to you and mislead you? I wouldn't expect anything good. 
My advice is that you stay away from all systems and programs that promise you fast and easy money, they're the ones who want to get rich quick at your expense.
If you're looking to earn a living online or more, then there's a digital marketing platform that provides couses, step-by-step training, video training and more tools that will help you create and grow a long-term online business in an ethical and legit way.
This platform lets you start for free to try things out and see if you like it. They don't even ask you for your credit card so that's great because you can see what the platform is like without revealing your financial information.
Apart from that, there's a community full of bloggers and online entrepreneurs inside that platform, who are willing to support and help you whenever you have a question or issue. I've been a member for more than a year and I've always had my questions answered. 🙂 
To be honest, I find this platform has a lot of positive things. If you're interested in learning more about my top recommendation, click the button below right now to read the full review I wrote about it:
.
So this review has come to an end. I hope you've found this review useful. Feel free to share it on social media so more people can benefit from it.
In case you have any questions or you want to share your opinion regarding Millionaire Biz Pro or other online programs, leave a comment below and I'll be very glad to help you out! 🙂 
Cheers =)