Welcome to my review of Tasksshare.com!
Some days ago I saw someone promote this site called Tasksshare on YouTube so I thought I would check it out and see what it's about.
It turns out it's not what it appears to be so I thought I would write a review to tell you all the truth about tasksshare.com so that you end up making the right decision.
.
---
Name: Tasksshare
Website URL: tasksshare.com
Owner: Hidden
Created in: February 2018
Price: Free to join
Overall Rating: 1/10
.
---
If you're sick of scams, check out my 1st resource to make money online here!
---
.
---
Tasksshare.com is a site that claims you can get paid for doing simple social media jobs.
What are these jobs about? Sharing the referral link they provide. All you have to do is to share that link on Facebook, Twitter, forums, chat rooms, blogs, advertising websites, private messages… wherever you can think of.
And then, when someone clicks your link and visits the Tasksshare.com site, they will apparently pay you $1.
They also claim you can earn $5 by completing simple tasks and $20 per bonus.
It sounds too good to be true because this is something anyone who has an electronic device and an Internet connection can do.
It doesn't require you to have any special skills or previous experience, so is Tasksshare.com the money-making opportunity that will enable everyone to finally make money online?
I personally don't like the fact that they claim you can easily earn $100-$500 per day only with 2 or 3 hours of work.
Most legitimate GPT (Get Paid To) sites don't pay that much just for sharing links or getting referrals, which is why I thought Tasksshare.com is another scam site.
.
---
Let's see what you can find inside Tasksshare.com and how it really operates.
.
---
In order to sign up, you'll have to complete a form with a name and last name, an email address and a password. 
Once you get access to the dashboard, you'll find 3 ways that can supposedly make you money:
Share your referral link and earn $1 per unique visitor.

Upload a YouTube video promoting Tasksshare and earn $5.

There's a section called "make more money" where you can find other "make money online" programs.
.
The problem I see
---
The problem I see here is that the programs on the "make more money" section are low-quality or scam programs, which means that they are not going to help you make money.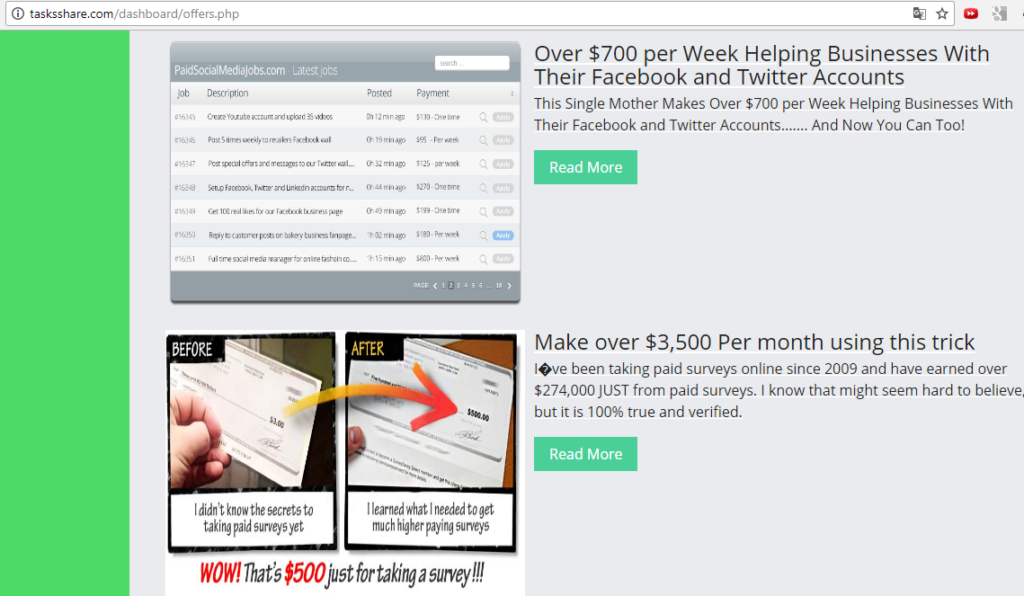 The ones from the picture above are Take Surveys For Cash and Paid Social Media Jobs, which are not good money-making opportunities because they are full of misleading information. 
Those are the kind of programs that use fake testimonials and claim you can make money easily without working much.
For example: saying that you can make $500 just for taking a survey is such a crazy claim because companies don't pay that much to people who take surveys.
I wrote an article about paid surveys that you can read to learn more about how the paid surveys world works.
.
---
The reason why Tasksshare.com wants you to purchase those poor quality/scam programs is to make money.
I know this because they're using affiliate links to take you to those scams.
Therefore, if you purchase those programs through their affiliate links, they're going to earn commissions.
This wouldn't be a problem if those programs were actually providing training that can help you make money, but they're not.
This is an indication that the people behind Tasksshare.com don't really have your best interest at heart.
I don't like when people promote scam programs or sites because the only ones who get to benefit here are the scammers and the "scammers' affiliates", while the customers don't get anything good out of them. This is unfair in my opinion.
But this is not all. The con artists behind Tasksshare.com also make money by collecting email addresses and other personal details.
When they have enough information, they sell it all to other unethical individuals and companies. This is why you can expect to receive unwanted emails from people you don't know.
In order to do this, they tell you to share your referral link and get other people to visit and join their site. The more people who visit their site, the more people who will join and the more money they will make.
This is the reason why I'm not going to share my referral link. I don't want other people to waste their time on that site.
.
---
Yes, there's no doubt Tasksshare.com is a scam site.
The way it really works is not going to benefit you, it's only going to generate profits for the people who've created it.
Let's see 3 red flags that expose Tasksshare.com as the fraudulent site it is.
.
The owners don't show up
---
There's no way to know who's running the show because they don't mention any names or show any pictures. Why are they hiding from us?
The fact that the people behind Tasksshare.com don't show up makes me suspicious because that's something scammers do. Scam artists hardly ever reveal their identities because they don't want their victims to persecute them.
I don't know about you, but I personally don't trust sites or programs whose real owners don't show up.
.
Unnecessary icons
---
The social media icons you can find at the bottom of Tasksshare.com are not necessary because they don't take you to any social network. 
I clicked them and got redirected to the top of Tasksshare.com.
Why do they want us to believe that they're on social media?
.
They're not going to pay you
---
The truth is that they will never pay you. It doesn't matter how many referrals you get or how much you manage to earn that they will not send you any money.
I know this because this is what they claim in their terms & conditions:

As you can read above, Tasksshare was created for a commercial purpose and you cannot get paid from it, which means that their real purpose is to make money themselves and they will not pay you.
.
Build your own online business instead
---
I definitely don't recommend Tasksshare.com because it will not make you any money. 
This is what you can do to leave these scams behind and get on the right way to make a full-time income online:
Keep in mind that making money online is not easy or fast. It requires you to learn, work hard, have patience and stay persistent. 
Build a sustainable online business based on something you're passionate about.
The business model I use has enabled me to earn a consistent income month after month. I stayed some months without making a dime but I don't regret working because it pays off in the end. 
I believe anyone who has the right step-by-step training, marketing tools and support can do what I'm doing. If you're willing to put in the effort and time, there's no reason why you can't make money online.
Nowadays you don't need any technical skills to build a website/blog like the one you're in now. As long as you're eager to learn and take action, you can build a blog and make money from it.
Another thing is, this business doesn't even require you to create your own products and doesn't require you to make a huge investment. 
If you're interested in learning more, click the button below now:
You'll learn how this business works, how you can get started without spending a penny and more!
Also note that you will not only get my help and support, you'll also be well supported by other like-minded individuals! 🙂 
Looking forward to helping you build your online business!
LEARN ABOUT MY TOP RANKED PROGRAM NOW!
I hope this review has been helpful to you and you now know what decision to make.
In case you want to share your opinion or there's something you want to know that I haven't talked about, feel free to leave a comment below and I'll get back to you ASAP.
Have a nice day =)