Welcome to my Secret Society of Millionaires review!
Have you come across the Secret Society of Millionaires sales page (secretsocietyofmillionaires.com) and are wondering if you can earn real money with this system? Os is it just another scam created to get your money?
Firstly, congrats on doing your research! There are many scams out there so it's good that you're researching what you're in front of before making a final decision.
Here in this review of Secret Society of Millionaires, I will show you what this system is about, how it really works, what they don't tell you and more.
.
Secret Society of Millionaires review
---
Name: Secret Society of Millionaires
Website URL: secretsocietyofmillionaires.com
Owner: Jason Alton
Price: $49 + more than $10,000
Overall Rating: 2/10
---
If you're sick of scams, check out my 1st resource to make money online here!
---
What is Secret Society of Millionaires supposed to be?
---
The sales page for Secret Society of Millionaires looks like other scam pages I've come across in the past. A page with a video, some scam signs and a high income claim which can get you very excited.
I mean, who wouldn't like to get a millionaire mentor that reveals how to make thousands of dollars per day?
Everything Jason Alton says about this system really sounds amazing, like a dream come true.
First of all, this system comes with almost everything done-for-you: you will not need to create your own products, you will not need to talk to anyone on the phone, you will not need to deal with customers, you will not need to worry about payment processing…
It sounds like a newbie friendly system because it doesn't require you to have any prior experience or special skills, so will this finally enable everyone to make money online? I'll go over it in a bit.
Another great thing about this system is that it works on complete autopilot so you can whenever you want and you can even take some days off, this magical system will still make you thousands of dollars in commissions.
Thanks to all of this, this system will allow you to have your dream lifestyle where you don't need to worry about paying the bills and can go to exotic locations whenever you want.
Oh, and what about your millionaire mentor? He/She will guide you through the process until you make a seven figure income, which sounds great.
Well, the truth is that they tell you what you want to hear just to get you to purchase this system. There are some important things about this money-making opportunity that they don't mention so here I am to reveal what you're really getting into.
Can you make money with Secret Society of Millionaires?
---
Yes, it's possible to make money with the method they teach but there's a catch.
What you first need to know is that Secret Society of Millionaires is not the name of the real system they're selling you. Secret Society of Millionaires is just a page created to get new leads to another program that has been around for some years already.
I know this because in the earnings disclaimer and the checkout page they mention the name of the real program.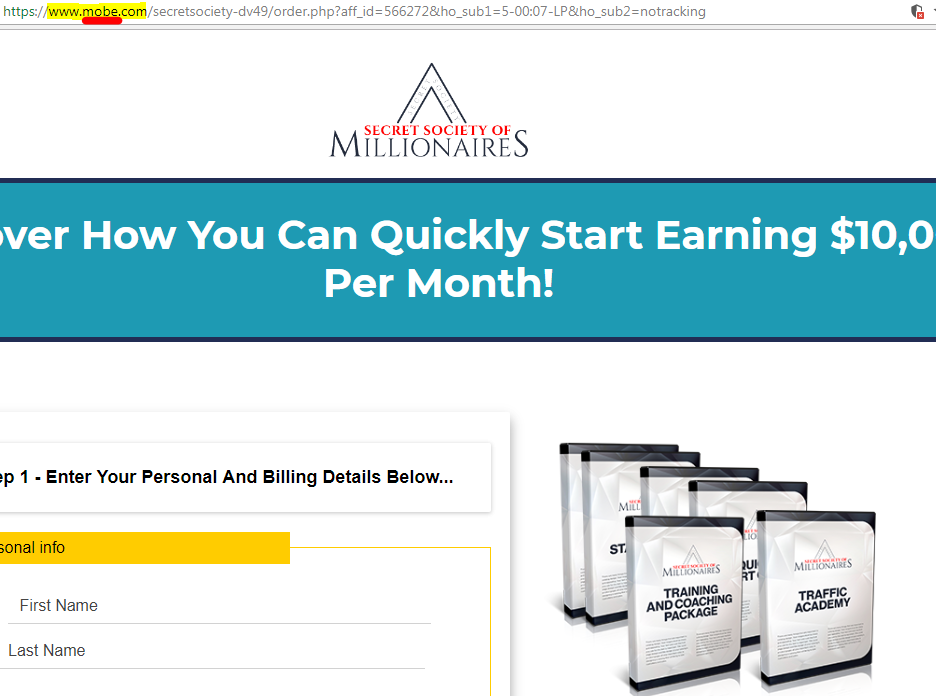 As you can observe in the URL I highlighted, the real program is MOBE (My Own Business Education), which is a digital marketing high-ticket MLM program.
The training and tools they offer are good but I don't like this program because it's merely focused on getting people to promote MOBE itself.
Well, this is what happens with other MLM companies. People who join them make money by promoting the company's products.
In this case, MOBE's products are very expensive. Yes, $49 is only what costs to get you started but there's so much more to buy in order to make the huge commissions they speak of. If you think about it, it would make no sense that they sold a system like this for only a tiny price of $49.
Let's see the real cost:

So… where's the catch? You'll have to purchase all the packages you want to make money from! Not to mention the monthly or yearly membership fees…
Therefore, if you want to make commissions of $10,000, you will have to spend over $50,000 because you will have to purchase all the packages (Silver, Gold, Titanium, Platinum and Diamond).
And then, after having done the massive spending, you will have to get other people to join MOBE and purchase the expensive packages you've bought for you to make the huge bucks.
For example, if you are at the Titanium level and one of your referrals purchases the Platinum one, you will not earn the big commission, it will go to your sponsor (a.k.a. your millionaire mentor) instead.
You will also have to teach your referrals to recruit other people for you to make more money. The more people who join under you, the more money you'll earn.
When it comes to the millionaire mentor who's supposed to hep you, this person is not really a millionaire or a real success coach.
He/She is a salesperson (the sales team who's said to close the sales for you) who will try to get you to spend thousands of dollars on the MOBE packages in order to make the massive commissions.
The only reason why he/she might continue helping you close the sales after you've purchased everything is because he/she gets to make even more money when you make sales. But that's it, his/her main purpose is to get paid.
Click here to check out my top recommendation (FREE to get started)!
Is Secret Society of Millionaires a scam?
---
Yes, Secret Society of Millionaires is a scam because it's not the name of the real program they try to get you into.
I mean, you wouldn't like to purchase a skirt and get jeans on delivery day, right? So this is the same. Secret Society of Millionaires is not the real system and MOBE doesn't even work the way they talk about in the sales video, it's very misleading.
Here in this section I'm going to point out the red flags of this program and other stuff I don't like.
The testimonials are fake
---
All the people that are shown in the sales video are not real members of Secret Society of Millionaires or MOBE, some are paid actors that can be found on Fiverr and other ones are stock pictures.
For example, this woman below has appeared in other scams like 1K in 1 Day:
Another fake testimonial is this old man from the picture below:
This picture can be found on some stock photography websites:
It's not automated
---
The reason why this program doesn't work on autopilot is because you need to keep recruiting people into the program, something that's harder than it seems. 
They will teach you to get leads doing paid advertising, which is a risky business if you're getting started and on a low budget because it requires a lot of trial and error. You will need to invest a lot of money to find out what works and what doesn't, so you can't expect your first campaign to be profitable.
Apart from that, you will need to spend even more money on paid ads because it's not easy to find the few people who have thousands of dollars to spend on MOBE packages. The truth is that most people are not willing to invest thousands of dollars in a money-making opportunity.
It's not risk-free
---
Even if they offer a money-back guarantee, this is not risk-free.
Firstly, not all MOBE packages have a money-back guarantee so you could lose money if you buy them all but don't make enough sales.
Secondly, paid advertising is a risky business as I said before, so you can expect to lose some money when you try to find out what works and what doesn't.
I personally know people who have lost thousands of dollars in order to find out the "formula".
The "only 20 spots available" lie
---
He claims that there are only 20 spots available, but this is not true. You can check out the site tomorrow or next week and you will hear the same thing from him.
The truth is that there's no limit when it comes to the spots available because MOBE has been around for more than 5 years and the MLM business model requires as many people as possible to sign up. He just lies to get you to make the purchase as fast as possible.
It has nothing to do with the news networks
---
According to the Secret Society of Millionaires sales page, they haven been featured on famous news websites but this is not true.

They haven't appeared on any of those websites because there's nothing concerning Secret Society of Millionaires on those news sites. 
The reason why they want you to believe they've been featured on news sites is to gain credibility. 
You don't need to spend thousands of dollars to make money online
---
After everything I've explained and found, I defInitely don't recommend that you purchase Secret Society of Millionaires and get into MOBE.
I personally don't like programs like MOBE because it's like a cash gifting scheme where a new member passes money to existing members. I mean, they're not teaching people build real businesses that provide value.
Apart from that, I don't like the unethical tactics they use to lure people in. They're not transparent when it comes to the real cost of the program and they also lie about the testimonials, something I've seen in other scam products.
Secret Society of Millionaires is no different from other pages I've exposed like Wifi Millionaire System, My Hidden Pages, Simple Money Sites, 6 Figure Profit Club… There are too many pages created to lure people into MOBE.
When it comes to making money online, there are more scams than programs I can recommend. What you need to keep in mind is that you will need to put in the effort and time if you really want to make a substantial income online.
The business model I use has given me a way to make a consistent monthly income online. In fact, many people are using this exact business model to make a living online.
I love this business model because it takes advantage of the millions of products that are being sold online. You don't need to create your own products and can choose the products you want to earn money from. Yes, you don't need to promote the same as everybody else.
I also like the fact that it doesn't require you to spend thousands of dollars to make money. The place where I got started back in 2016 even lets you start for free.
With the right step-by-step training and business tools, I believe that anyone who's committed to doing the work can build a thriving online business.
By clicking the button above now, you will find out how this business works, why it works, where to get started for free and more.
The business you'll build will be based on a topic you're passionate about, something that will make the process more enjoyable =)
You will also learn how to get free organic traffic to your business so you will not have to risk your savings on paid ads!
And to add to it all, when you get inside the platofrm where I got started and still very active today, you will get to meet other like-minded people you can interact with and ask questions to. Not to mention that I'll personally be there for you as well 🙂 
Looking forward to seeing you leave the scams behind and start building your long-term business today!
LEARN ABOUT MY TOP RANKED PROGRAM NOW!
I hope you have found the answers you were looking for regarding Secret Society of Millionaires.
If there's something else you want to know or want to share your opinion, feel free to leave a comment below and I'll get back to you ASAP.
Have a great day!