Hi guys!
Today I found this site called PayWall.top and I knew I had to look deep into it because it looked quite familiar to me.
I guess you've come across PayWall and are skeptical about it, right? Well I'm glad that you've done your research and have landed on this page because you're about to know the truth and why that site is not what they claim it to be..
PayWall.top review
---
Name: PayWall
Website URL: paywall.top
Owner: Hidden
Created in: October 2017
Price: Free to sign up
Overall Rating: 1/10
---
If you're sick of scams, check out my 1st resource to make money online here!
---
What is PayWall.top?
---
PayWall.top is a site that claims to offer the easiest way to make money online. 
They say you don't have to try any of the complex methods, you can start earning money within seconds by doing small tasks.
These are the tasks you'll have to do to earn money:
Take surveys/sign up for trials. They claim to have a large collection of surveys and free trials and you can earn between $5 and $200 per each survey or sign-up.
Download free apps. They supposedly pay between $2 and $20 per each app you download.
Share posts on Facebook. All you have to do is post their banners on Facebook groups and they'll allegedly pay you $0.5 per post.
Get referrals. They say they'll pay you $1 per valid referral.
Promote digital products, movies and courses. They say they have a list of digital products and courses and you only have to promote them through your affiliate link and can earn between $25 to $150 per sale.
And the best part is that it's free to join and anyone can do this because no prior experience or special skills are required.
After joining, you'll get a $10 bonus and then they allow you to get paid once your account balance reaches at least $50. 
They claim to send payments the last day of each month via PayPal, Payza, Skrill, Payoneer or wire transfer (minimum $100).
Click here to check out my top recommendation (FREE to get started)!
How is PayWall.top supposed to work?
---
In order to join, I had to complete a form with a username, an email address, a password, a name and select the gender.
Then I had to confirm the email and log in.
After getting access to the dashboard, I saw I had $10.50 (a $10 bonus and $0.50 for logging in). 
Let's see what you'll find in each section of PayWall.top.
Tasks
---
Their tasks section has three lists of tasks:
If you click "start" of list 1, you'll be brought to a new screen like this:
I don't know why these offers are in Spanish but they're about watching movies, updating Whatsapp, downloading books… I clicked some of them and they ask you for your personal details like your name, your email address and your phone number.
These offers are not only time consuming and never ending, some of those sites might contain virus and malware.
Not to mention that some of those offers are about signing for free trials or making some kind of payment, so it's not really free to make money.
As you can observe in the picture above, I highlighted the link because it's an affiliate link, which means that if you complete those offers, the owners of PayWall will get paid.
Those offers are CPA (Cost Per Action) offers, a form of affiliate marketing, which is a legit business model but the problem here is that the creators of PayWall.top are not doing this right. It's not ok to get you to join unsafe sites just to make money themselves.
Apps
---
There's another section with apps that have an affiliate link, which you can grab and promote.
You can promote your link wherever you want like Twitter, Facebook, Pinterest, Google+… and then you're supposed to earn between $0.50 and $1.50 for each person who downloads an app through your link.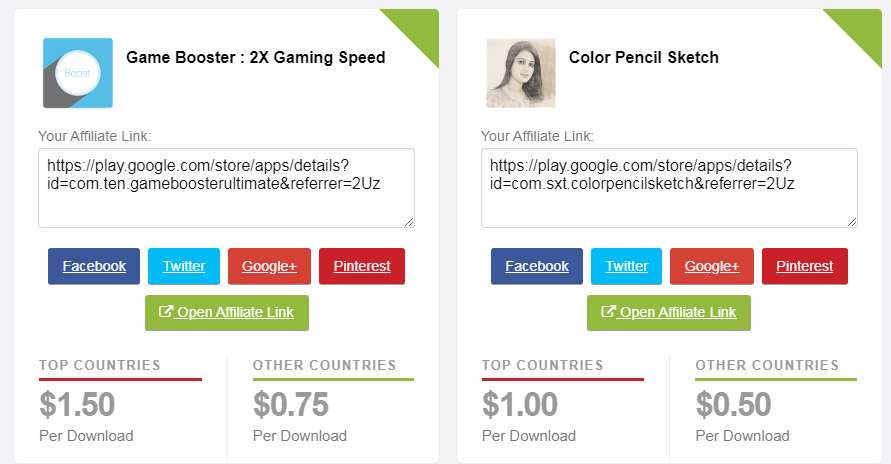 And as a requirement to get your credit, people who download those apps must use them for at least 5 minutes.
Banners
---
In their banners section you can find some banners to promote like the ones below:
All you have to do is download those banners and post them on Facebook groups related to the "make money online" topic. 
And once you've posted it, you'll have to take a screenshot and upload it in a section of PayWall.top in order to earn $0.5.
Is PayWall.top a scam?
---
Yes, PayWall.top is a scam and I have no doubt about it.
Even though their site looks decent (not like the typical scam site), there are some red flags that prove it's not legit.
They want you to deceive other people
---
Why do they want you to promote banners where of earnings screenshots that are not your own results? 
This will make people have false expectations. When you promote those banners on Facebook, people who see them will think that you have made money thanks to PayWall.top, when in fact they have not paid anyone.
Those banners were created by the owners of PayWall.top and are not real. They more than likely are photoshopped.
By posting those banners on Facebook, you will not only be compromising your own integrity and ethics, you'll also be doing the scam artists a favor by getting others to sign up to their site.
What about the digital courses and the movies?
---
Remember that they claim you'll earn between $25 and $150 per sale if you sell their digital courses, products or movies? That's what they claim in their homepage.
However, once you're inside you can see that they don't have any section related to digital courses or movies. In fact, they say nothing about it.
Then why do they lie about what they have to promote? Why do they lie about the amount of money you'll make? This proves their dishonesty.
No way to know who we're dealing with
---
This one is very common in scam sites. People who run scam sites that claim you'll make easy or fast money usually don't show up or fake their identities.
In this case, there's no way to know who's behind PayWall.top. I guess they don't reveal who they are in order to avoid getting persecuted by the people they rip off.
Lack of important pages
---
They don't have a privacy policy, a terms & conditions or earnings disclaimer page, which is a red flag because these pages reveal essential information.
Why are not transparent about how they're going to use the information you give them? If they really cared about you making an informed decision, they would have at least one of these pages.
They will not pay you
---
Yes, PayWall.top has not paid anyone.
There would be at least a positive review about them but there is none. 
PayWall.top is no different from another scam site called PayTime.top, which I exposed some months ago and is know for not having paid anyone.
See how similar their names are?
Well, I believe the same con artists are running both fake sites because there are parts of their sites that look very similar. For example, the "how it works" section:


As you can observe above, in both sites they use the same words in the three steps of "how it works".
My final words
---
I don't recommend that you try out PayWall.top because it will not benefit you in any way.
One of the reasons why it's free to join is because they want to collect as much information as possible and sell it to other companies and scammers. 
They haven't paid anyone and they trick you into believing that you'll get paid just to make money themselves. They will not only waste your time, they will also leave you frustrated when you realize that they will not pay you.
The business model they use (affiliate marketing) is legit and can be very lucrative, but they're using it in a very unethical way. 
I also use this business model but the difference is that I don't promote deceive people and don't promote bad products/offers.
When it comes to making money online, you need to keep in mind that you'll have to put in the effort, be patient and stay persistent. It takes time to succeed.
There's no push button system that will make you money without you doing nothing. That does not exist.
Don't you think everyone would already be rich if these "make money easily and quickly" sites actually worked? Those sites only make money to the people who've created them so I suggest that you avoid them.
If you dream big and are committed to doing what it takes to earn a living online and more, then I believe that my top ranked training platform will benefit you.
This platform is very affordable (free to join) and offers step-by-step training, courses and other marketing tools that will help you create and grow an affiliate marketing business in a way that's sustainable for the long-term.
I've been a member of this platform for almost 2 years and have never looked back. I've made money and learned a lot.
This platform offers many ways to get help and support. Once you're inside, you'll get the chance to interact with other members, ask questions… and there's always someone that replies. I'll personally be there for you too =)
If you're interested in learning more, check out my full teview by clicking the button below now:
Looking forward to seeing you inside =) It's your time to get on the right way to earn money online!
I hope you've found the answers you were looking for regarding PayWall.top.
If you have any questions or opinions, don't hesitate to leave a comment below and I'll get back to you soon.
Best wishes! 🙂