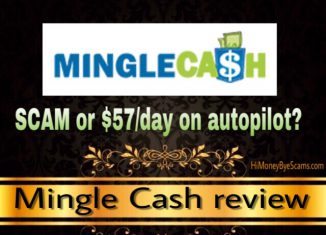 Welcome to my Mingle Cash review!
You have come across a website called Mingle Cash (minglecash.com) and are wondering if it can help you make real money online on autopilot? Or is Mingle Cash a scam that you need to stay away from?
You may know that there are many scams out there, so it's great that you're doing your research before getting involved in another money-making opportunity.
This is the way to avoid scams and find the real way to earn money online!
Here in this review, I will show you what Mingle Cash is about, how it works, the red flags I've found and more.
Mingle Cash review
---
Name: Mingle Cash
Website URL: minglecash.com
Owner: Andrew Gitt
Created in: 2011
Price: $27 or $17 ($10 discount) + upsells
Overall Rating: 4/10
---
If you're sick of scams, check out my 1st resource to make money online here!
---
What is Mingle Cash about?
---
Mingle Cash is a GPT (Get Paid To) program that claims you can earn money online on autopilot by performing simple tasks like:
Doing Google searches

Getting referrals

Surfing the net

Watching videos

Completing surveys

Downloading apps

Filling in forms
They claim you don't need to refer anyone in order to make money, but the truth is that most money is earned with their 10-level referral system. Maybe that's why people are promoting it on social media.
It's free to join, which makes it very tempting to try it out because it sounds like you have nothing to lose.
When it comes to payments, the minimum withdrawal is $2 and they claim to make payments every 10 days through PayPal.
It sounds like an amazing opportunity to make money because you don't need to have any previous experience or special skills, since the tasks to complete are something we usually do online.
They make it sound as if it were easy to start making money and even earn a substantial income online, but it's all hype as I will explain later.
What's inside Mingle Cash?
---
In order to register, you have to complete a form with an email address, a password and the password confirmation.
After that, you will get access to the Mingle Cash dashboard, where you can choose between 4 ways to make money:
They claim you can make money if you download and use their browser called Chronium to surf the Internet.
You only need to install Chronium and use the Internet like you always do, the only difference is that you will see pop-under ads and will have to take action on the ad offers. For example, you will have to fill in forms, add extensions, do some searches…
It sounds cool to make some money for doing sudokus and crosswords, right?
Well, you will have to watch a video ad before starting to play and will also have to play the game for at least 90 seconds in order to get credit.
Depending on the country you're from, you can earn some pennies for watching videos. This is only available in 11 countries like USA, Canada, Australia, Germany, Norway, The UK, New Zealand, Denmark, Sweden, Ireland and Netherlands.
In this section you will find offers to complete like taking surveys, downloading apps, filling out forms, signing up for free trials… 
The thing is, each offer has an affiliate link embedded, which means that the people behind Mingle Cash will get paid when you take action on these offers. And then, they supposedly share their earnings with you.

Many of these offers are very time-consuming and boring, not to mention that some of them also collect your personal details and share them with third parties. That's why you need to be careful with the information you give them.
How does the referral program work?
---
In order to make more money, you will have to take part of their referral program. 
To get started, you will need to share your affiliate link wherever you want and earn between 1.25% and 5% when other people sign up to Mingle Cash through you. You will also be able to make money from your downline (the referrals of your referrals, the referrals of your referrals' referrals and so on), which goes until the 10th level.
But referring other people is not enough for you to make more money because your referrals will need to be active. If you get 100 referrals but only 10 are active, there's no much money to be made. 
In order to make 5% of the money earned by your downline, you will need to view at least 40 ads per day.
Andrew Gitt, the alleged owner of Mingle Cash, wants you to believe that this program gives you the chance to earn over $24,000 per day and become a millionaire if you get over 7 million referrals.
Well, I personally believe that not many people are going to be interested in joining this program because of the low-income potential.
Even if you got 7 million referrals, do you think everyone would be active when they realized that doing simple tasks does not pay much? There would be people who would eventually get bored when they saw that it's hard to reach the $2 minimum payout threshold.
Click Here To Get My FREE Step-By-Step Earn Money Online Guide!
Is Mingle Cash a scam?
---
The answer to this question actually depends on your expectations.
On one hand, if you expect this program will make you rich, then you will call Mingle Cash a scam.
On the other hand, if you believe this program is a good opportunity to make some extra money, then you will not call it a scam.
I personally will not call Mingle Cash a scam because it's free to join and they also provide a 63-page ebook with valuable information.
With that being said, I want to point out some of the red flags I've found because they're an indication that this program is not as good as they want you to believe.
The testimonials are paid actors
---
If you've read the Mingle Cash sales page, you might have watched some videos where some people talk about their experience.
The problem is that these people haven't tried Mingle Cash themselves, so these testimonials are fake.
For example, this guy below is a Fiverr actor that has appeared in some videos used for scam/low-quality programs like 30 Minute Money Methods and Free Ad Cash System: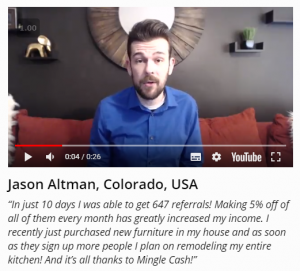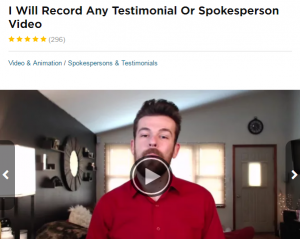 The girls from the introduction video aren't real members
---
The beautiful girls from the video presentation are not real members of Mingle Cash, so don't believe everything they say.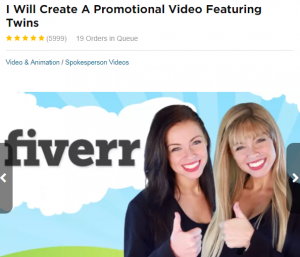 They have got paid by the owner/s of Mingle Cash just to do the sales presentation.
Fake success stories
---
What about Bob Wilson and Camilla Fernández's success stories? Very inspiring, aren't they?
The purpose they have with these stories is to lead you to believe that Mingle Cash is the perfect solution to your financial problems and that you will be able to pay your bills and quit your job thanks to it.
Well, the problem is that these stories are invented and Bob and Camilla are made up characters.
I know they are not real because the people from the pictures are not Bob or Camilla. I did some image searches and found out that these images are stock photos: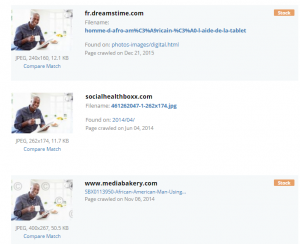 Lack of legal information
---
Another red flag is the fact that they don't provide any terms & conditions or privacy policy page because these pages contain important information that you need to know in order to make an informed decision concerning Mingle Cash.
They don't reveal what they're going to do with the data you provide and they don't even tell you and what you can do and cannot do inside the platform, not to mention that the owner doesn't show up so there's no way to confirm that the real owner is Andrew Gitt.
I don't know about you, but I personally don't trust websites that don't provide any legal information.
"As seen on" is fake
---
At the bottom of the Mingle Cash sales page, you can read that they have been featured in popular business companies like Forbes, Business Insider, Entrepreneur and Money.
However, after doing some research, I can confirm that this is not true. Mingle Cash has no connection with those companies. You can even go to those companies' websites and search for Mingle Cash, but you will not find anything.
Use your time wisely
---
Mingle Cash is not a total scam, but that doesn't mean that I recommend it. I have several reasons not to recommend Mingle Cash.
I don't like the fact that they are marketing it as an easy and fast way to make money because it gives people unrealistic expectations. And the fact that they lie about the success stories and the testimonials is another reason why I will not get involved with Mingle Cash. 
Yes, it's free to join and you can earn some extra money, but do you think it's the best way you can use your time? I know that if I put all my effort into Mingle Cash, I will stop making money if Mingle Cash shuts down.
So, if you're going to put in the effort to make money, why not work on something that can make you money for the long-term? 
I personally prefer to work on an online business that can make me money for the long-term. The business model I use has shown me a way to earn a consistent income month after month. In fact, many people are using this business model to make a living online!
There are many things I love about this business model: it's newbie-friendly, it doesn't require you to create your own products, it can make you passive income… 
I think I would not finish this post if I had to explain it all lol. That's why I wrote a step-by-step guide on how to make a full-time income online using the same business model I use, and you can get it for FREE by clicking the button below:
You will learn how this business works, why it works, where you can get some easy-to-use tools and step-by-step training… and more.
I also show you how to start your online business for FREE, so you can rest assured knowing that it's risk-free to get started =)
On top of that, in my guide you will find how you can get help and support from a community of bloggers and Internet entrepreneurs so you are not alone in this!
Building this business is not easy and takes a lot of effort and time, but it's worth it in the end!
CHECK OUT MY FREE EARN MONEY ONLINE GUIDE HERE!
I hope this truthful review has been helpful to you and you will make the best possible decision. Don't hesitate to share it with whoever you believe that will benefit from it!
If there's something else you want to know or you have any questions regarding Mingle Cash, feel free to leave a comment below and I'll get back to you ASAP! ? 
Best to you =)