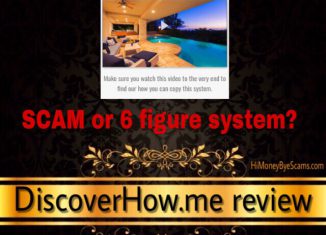 Hey everyone!
I guess you've landed on this page because you're wondering whether DiscoverHow.me is a scam or not, right?
Well done on doing your research because there are many scams out there so you need to be careful and always do your research before getting involved in a money-making opportunity, especially if it sounds too good to be true just like DiscoverHow.me does.
In this review, I'm going to explain what DiscoverHow.me really is and whether you can benefit from it or not.
.
DiscoverHow.me review
---
Name: DiscoverHow.me
Website URL: discoverhow.me
Owner: Ankur Agarwal
Price: $1 for 14 days, then $37/month + thousands in upsells
Overall Rating: 15/100
.
---
If you're sick of scams, check out my 1st resource to make money online here!
---
.
What is DiscoverHow.me about?
---
The second I came across Discoverhow.me, I thought it was a get-rich-quick scheme because it shows the typical characteristics like a high income claim, the hype…
Ankur Agarwal, the spokesman, claims he's going to show you how he made over $600,000 last year.
He claims his life wasn't always easy as he was over $30,000 in debt and fell for get-rich-quick scams when he was starting out. Such a sob story, but I don't know if it's true because I've heard the same thing in other scam videos.
When it comes to this system, it's supposed to be amazing because it has the following features:
You don't need any previous experience or special skills.

It has the potential to make you earn thousands of dollars in commissions.

It works on complete autopilot, so you can earn money while you sleep.

It doesn't require you to create your own products, it's a "done-for-you" system.

You're going to get a success mentor after joining.
I personally don't like "done-for-you" systems. I know it sounds kind of attractive but I don't like them because they don't encourage you to be creative and make you dependent. I mean, if this system fails or gets shut down, you will no longer make money from it.
So Ankur has already made so much money using this sytem, but he now wants to expand his team so he's looking for excited and driven people to join him.
And what about those people who appear in the video and claim to have made thousands of dollars in a short period of time? How cool, right?
It all sounds too good to be true, they make it seem like it's not hard to make that much money in a short period of time.
However, after watching the sales video, I realized that there are essential and important things Ankur doesn't explain so let's see what you need to know apart from what Ankur talks about.
.
How DiscoverHow.me really works
---
Have you noticed that Ankur doesn't say the name of this amazing system in the sales video? And he doesn't call this system DiscoverHow.
Well, the truth is that DiscoverHow.me is not the name of the real system, it's just a sales page that has been created to get you to buy into Aspire, which belongs to Digital Altitude.
So yeah, the real program you're getting into is Digital Altitude.
In order to get access, you can get started for $1. But don't let that make you think this is cheap.
The $1 is only a 14-day trial, then you'll have to pay $37 per month in order to keep your Aspire membership active.
They allow you to start for $1 just to get you ready to spend thousands of dollars. Yeah, that's right. They'll try to get you to buy all the Digital Altitude digital marketing packages, which are very expensive:
Aspire Hiker – $67 per month.
Aspire Climber – $127 per month.
Base – $597 (one time payment).
Rise – $1,997 (one time payment).
Ascend – $9,997 (one time payment).
Peak – $16,997 (one time payment).
Apex – $27,997 (one time payment).
Over $50,000 in total!! 
Those prices are something Ankur doesn't mention in the sales video, and something you need to know about.
I mean, it's very misleading the fact that they want you to buy into Aspire without telling you that you'll have to purchase the other packages in order to be elegible to earn the huge commissions. 
Yes, they'll tell you to invest in those packages in order to be elegible to promote them and earn the $500, $1000 and $10,000s commissions.
I personally find it's kind of unethical to tell you that you can earn thousands of dollars in commissions without telling you that you'll have to invest those thousands of dollars in order to make them. They're creating false expectations by doing that.
Well, if you're wondering how they're making money with this. It's simple.
They're promoting Aspire and the rest of Digital Altitude packages and earn commissions after making sales. They also recruit others and tell them to do the same. 
So yeah, you'll have to recruit other people and get them to purchase the DA packages in order to make money. You'll also have to teach your referrals to recruit other people so that they, you and your upline (Ankur and others DA affiliates) make money.
Digital Altitude is just a MLM business opportunity. You have to promote the same products everyone else is promoting, and you get the same training and tools as everyone else.
That's why Ankur claims you're going to get the tools, the websites, the products… 
And what about the success mentor? He/She's merely your sponsor, someone who will not only help you make sales and get new recruits. He/She will also try to get you to purchase the DA expensive packages in order to make money off your purchases. 
.
Is DiscoverHow.me a scam?
---
I personally consider DiscoverHow.me to be a scam because it's not a real system itself, and it contains misleading information and scam signs.
.
It's not automated
---
Ankur claims to have made over $600,000 in complete autopilot in a year, but that's not true.
This system is not completely automated. I mean, even though you can make money while you sleep, you need maintain this system. You can't just activate it and let it work without doing nothing.
If these "plug and play" systems actually worked, then everyone would be rich already.
But the truth is that you'll have to constantly work on getting new leads and get other people to join Digital Altitude, something that's not that easy.
You'll have to get traffic to pages similar to DiscoverHow.me in order to get recruits. 
The thing is, search engines like Google and Yahoo don't rank pages like that because they don't contain valuable content, which means that you can't rely on organic traffic to get leads. 
You'll have to do paid advertising which can be kind of risky if you're on a low budget and don't know what you're doing.
Think about it. If this system worked on complete autopilot, do you think that Ankur and the other Digital Altitude top affiliates would be creating fake pages like DiscoverHow.me to get others to join? If it were that easy, they wouldn't be doing this.
.
The "a few spots left" claim
---
Ankur says that there are a few spots left, but that's a lie.
The truth is that the spots available are unlimited. I know this because I came across DiscoverHow.me some days ago and I've checked it out today and it says the same thing.
Apart from that, it's been over 2 years since Digital Altitude exists, so there's no way that the spots are limited.
What he really wants is to get as many people as possible to buy into this, so he makes that fake claim to get you to rush into buying it.
.
It's not risk-free
---
Ankur also claims this is risk-free, but that's not true.
Even though they offer a refund, this is only for the first payment. This means that if you buy another Digital Altitude package, you will not get a refund. 
That's why it's not risk-free, there's no guarantee that you will make money even if you buy the most expensive packages.
.
Most people haven't earned much money with this system
---
Just like it happens in other MLM companies, the ones who get to profit the most are the ones at the top. The ones who have spent thousands of dollars on the packages.
I know this because I checked out the average earnings that you can observe below:

As you can see in the picture above, over 59% of Digital Altitude affiliates earn less than $100 per month, while only less than the 5% of affiliates get to profit at least $10,000 per month.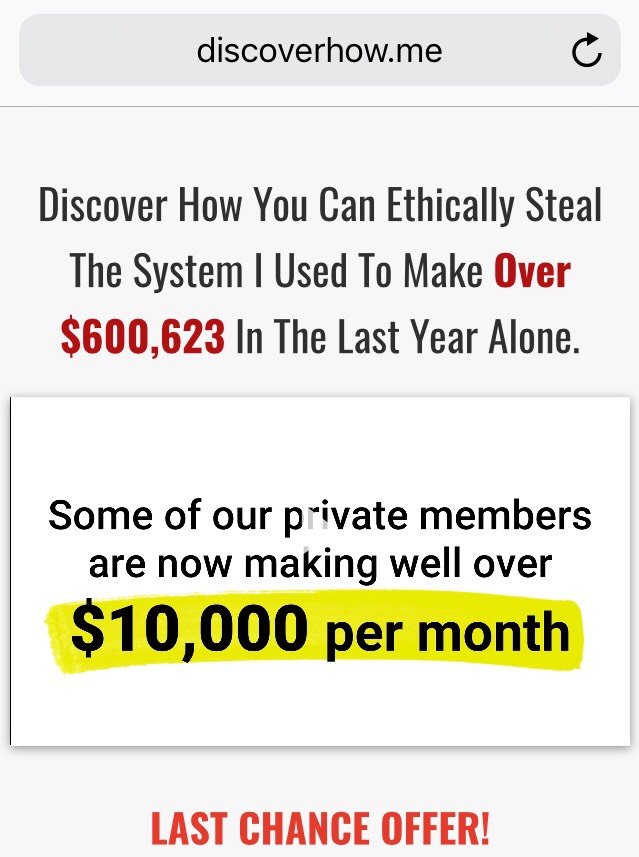 This is what I don't like about the MLM business model, there's always people at the bottom who spend more than they earn. There's always the need to recruit people in order to make money.
.
Is it legal?
---
Ankur claims this is completely legal, but I don't think so.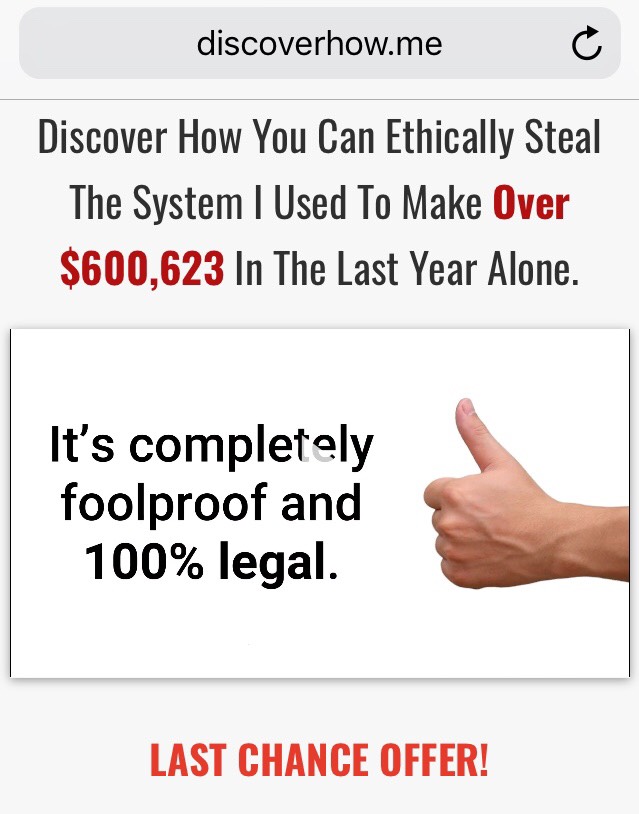 The thing is, Digital Altitude and Michael Force (the founder) have got sued by the FTC (Federal Trade Commission) for over $14 million in fraud. Wow!!!
There have been many complaints from people who have lost a lot of money on the Digital Altitude packages. And some people were even asked to do things like selling their car, selling their TV or asking for loans just to purchase the DA expensive packages.
.
Earning money online should not cost you your life savings
---
I surely don't recommend that you try out Aspire or Digital Altitude. They've been sued by the FTC anyway.
I personally believe that high-ticket MLM programs like Empower Network (shut down some months ago) and MOBE (another high-ticket MLM digital marketing company) are not the best options for people who're on a low budget or starting out as they require you to invest a lot of money.
First of all, I don't like the MLM business model because it gets you to promote the same products as everyone else (everyone in the MLM company you join) and it keeps you dependent (if the company shuts down, you stop making money).
Apart from that, I don't like the fact that these high-ticket programs I've mentioned use scam tactics to get you to join. Most of these fake pages like DiscoverHow.me have misleading information and look like get-rich-quick schemes.
They don't even mention the real system they want you to buy and hide the costs.
They also make it seem like it's easy to make big bucks online when the truth is that it's not. Making a full-time income online requires real work, persistence, patience, learning… It takes time to build a successful online business.
If you dream big and are committed to doing what it takes to generate an income online, I really believe that my top ranked digital marketing platform will help you out.
This platform is where I got started back in 2016 and it's very affordable (even free to join). I've never looked back since as I've learned a lot and have also made money.
Inside this platform, you'll find step-by-step training, video tutorials and other useful tools that will guide you through the process of building an affiliate marketing business the right way, the way that works for the long-term.
If you're interested in learning more, click the button below to read my full review now:
I also want to add that inside the platform you'll meet some supportive bloggers and Internet entrepreneurs, looking forward to helping you on your way of making money online =)
I hope this review has answered the questions you had concerning DiscoverHow.me.
If you have any questions or want to share your opinion, don't hesitate to leave a comment below and I'll get back to you soon.
Best wishes! 🙂