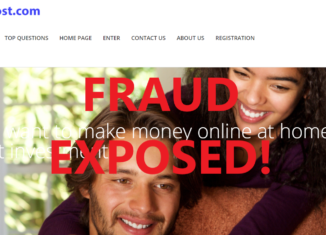 Welcome to my Classnovost.com review! 
Is Classnovost a scam? Or will Classnovost.com pay you for reading news and taking surveys? 
I'm sure that it sounds attractive, but if you are here it means that you doubt it can work and think it could be a scam.
You know, there are too many frauds out there, and they come in different forms, so I'm happy to see that you are doing your research.
That's how you can avoid scams and find the legitimate way to earn a full-time income online in 2021.
In this Classnovost.com review, you will not find any classnovost referral link because promoting this site is not my purpose.
Instead of that, I will expose the complete truth about classnovost so that you can decide whether it's right for you or not.
Classnovost.com review summary
---
Name: Classnovost
Website URL: classnovost.com
Owner: Hidden
Created in: May 2021
Best for: The founder
Price: Free to join, but not worth it!
Recommended? No, it's not cool!
---
If you're sick of scams, check out my 1st resource to make a 4-digit monthly passive income HERE!
---
What is Classnovost.com about?
---
Classnovost.com is a platform that claims you can earn at least $111 a week just by reading news and answering some questions. 
I have been exposing lots of scam sites and I remember that sites like this tend to be scams that not only waste your time, they try to steal your money as well.
Classnovost says that you get 35 news items to read every day. Then you just need to answer some questions to earn $111. 
But that's not all! They also say that you can increase your earnings by getting other people to join classnovost.com. For every referral, you supposedly earn $55 + 10% of their earnings. 
According to them, if you get an active referral per week, you can manage to earn $854 every week. Doesn't it sound awesome?
I mean, just imagine how your life would change if you earned over $3000 a month without doing much work. I'm sure that lots of people who are struggling financially would love to have a job like this, especially knowing that joining is free. 
However, if you think about it all, you can conclude that it sounds too good to be true and that if it really worked, there would be less and less people struggling financially. But as you can see, there are lots of people struggling and sites like classnovost.com don't seem to be helping them.
Classnovost.com doesn't provide enough information to look trustworthy and leaves many questions unanswered… That's why I'm here to clear all your doubts.
How Classnovost.com really works
---
Classnovost.com doesn't work as advertised because it was not created to help you make money.
This platform is like other websites that exist just to take advantage of you and rip you off. 
Yes, that's the ugly truth…
Classnovost.com is free to join but does not pay members. 
They don't ask you to pay but they ask for your payment information to use it against you. 
And not only that, they ask for your email address and a password to sign up because the owners of this platform want to gather as much information as possible.
Once they have collected lots of email addresses, passwords and other payment information, they will sell it all to other fraudsters and unethical people who will not hesitate to use it to their advantage.
They will send you spam and promotional emails about other products or services, and they will also try to steal your personal accounts.
For example, they will use your email and password to log into your gmail or paypal accounts, and if it works they will use all the info they find to take your money. 
In case you used your main email address or password to register, I recommend that you change your password or add security to your personal accounts.
You know, classnovost.com does not pay because the owners are not working with any news and media companies. They are not getting paid the kind of money they say that you can earn, so they will not pay anything. 
When it comes to referrals, they want you to refer other people because they want as many people as possible to sign up. The more people who fall for this scam, the more money these scammers earn.
Sick of scams? Want to make passive income every day?
Check Out My FREE Earn Money Online Guide Here!
Lack of contact information
---
Anyone who starts a job or a business would love to get some support and answers to their questions, don't you think? 
Providing support and help to members and customers is essential, but that's something that you cannot expect from classnovost.com because they don't give you any email address or social media information to contact them.
The fact that classnovost.com does not provide support says a lot about them. It's clear that helping you is not in their best interest, so they obviously don't have genuine intentions.
No info about the owners
---
In the classnovost.com website there's no information about the company, which is a big red flag because it indicates a lack of transparency.
There's no info about the location of the company, the year it was created or the people behind it. Without knowing this, how can this platform be trusted?
I mean, knowing who created the company is important because it can help us find out what we can expect from it. For example, if you knew that a business has been founded by scam artists, you wouldn't join it, right?
In the case of classnovost.com, the people behind it don't mention who they are, which leads me to believe that they have something to hide.
From my experience, I can say that websites whose owners don't show up end up being frauds to avoid.
Classnovost.com asks for your information in order to sign up, so not knowing who's collecting your information is dangerous because it doesn't allow you to know how your information will be used.
I personally try to avoid these kind of websites because I wouldn't like to work with people who are dishonest.
Classnovost.com is not legal
---
How do I know that classnovost is illegal?
Well, they don't provide any legal information, such as a terms & conditions, a disclaimer or a privacy policy page. 
For me, this is an indication that Classnovost.com does not use people's personal data for legal purposes. 
If they didn't use your information against you, they would definitely disclose what they do with it. 
There's no information about the rules or terms, which is something that leads me to conclude that Classnovost.com cannot be taken seriously.
Any legitimate company discloses this kind of information, so it's best to stay away from websites or companies that are not transparent about it.
Is Classnovost.com a scam?
---
Yes, Classnovost.com has too many red flags that do indicate it's not a legit website you can trust to earn an income online.
As I have explained, their business model is not sustainable, which means that they cannot afford to pay the kind of money they promise.
There's no info about the company, lack of support, no legal information… 
The owners don't show their real identities because they don't want to get sued, reported or fined. They do their best to keep scamming as many people as possible.
In case you have been using classnovost.com, I hope you now know what to do next.
After reading how it works, you can stop using it and you can also protect your personal accounts. If you've used one of your passwords to register to classnovost.com, I recommend that you change your password.
For example, if you're using it for your PayPal or Gmail, you can change your password and you can also add a two-step verification to protect your accounts.
I'm tired of these scam artists and their lies, they're not doing anything good for the world, which is very unacceptable and unfair.
Oh, and that's not all… 
Here you can read some real comments from people who have tried classnovost.com: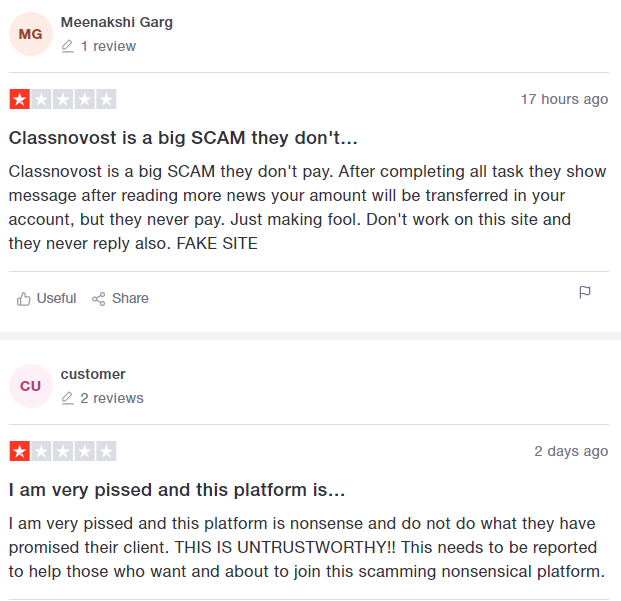 I haven't found any positive comment and there are no payment proofs, so I'm 100% sure that no members have got paid. 
What you decide to do is up to you, but my final conclusion is that it's best to stay away from Classnovost.com.
Stop wasting time! Start earning online passive income like me
---
If you're tired of fraudulent sites that promise you the world but give you nothing, keep reading because I have some good news for you.
There are too many scams out there, but the good news is that there are also legitimate sites that can really help you achieve your goal of making a living online.
I could mention some sites that pay you to watch videos or complete surveys, but I don't recommend them because they can make you as much as $1 a day, and I'm sure you know that you deserve waaay more than that.
That's why my suggestion for you is to build your online business using a newbie-friendly business model that has been working for decades.
This business is about helping other people find solutions to their problems. When they buy the solution thanks to you, you get paid!
It takes work and time, but I believe that success is possible for anyone who's willing to learn and take action.
It's thanks to this business that I'm earning passive income every single day. Here's one of my payment proofs: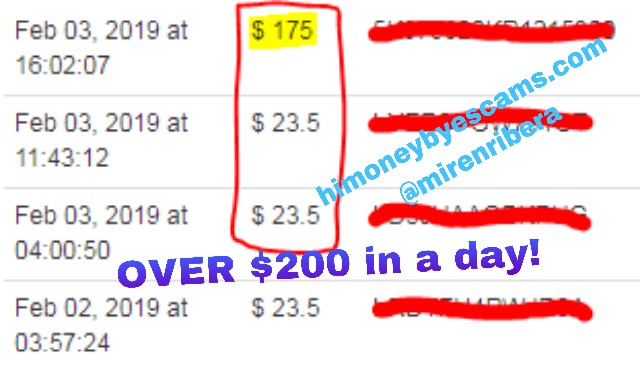 What if you don't have any previous experience or tech skills? Don't you worry, lots of people like me have started as complete newbies.
For your information, this is not about MLM, recruiting or trading. This is a real business that lets you profit from other people's products and services, so you don't need to create your own product.
If you're interested in learning how this business works step-by-step and how you can get started for free, I invite you to read my FREE guide here: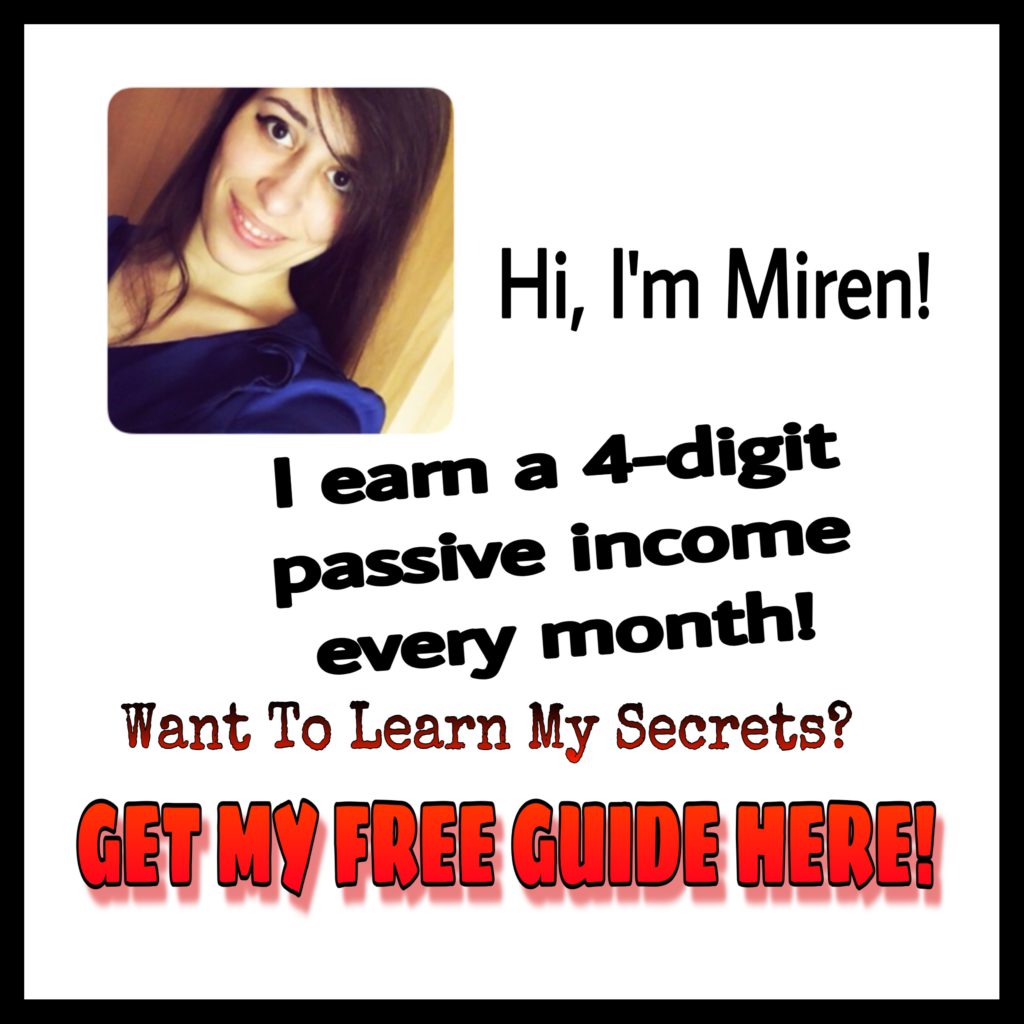 My guide is FREE (no login information required, just click here to start reading it), which means that you have nothing to lose and a lot to gain 🙂
Oh, and what if you ever have questions or get lost? No problem! I'm not like those con artists because I'm honest about my identity and I also reveal how you can contact me.
If you read my free guide until the end, you will discover how you can get answers to your questions and help from me and other business owners.
Stop wasting your time on terrible frauds and start building your online money-making journey today!
I will leave this quote here:
If you want something you have never had, you must be willing to do something you have never done.
I hope this Classnovost.com review has been helpful to you and you will make the best possible decision.
Feel free to share it with whoever you believe that will benefit from it!
If there's something else you want to know or you have any questions about classnovost.com or would like to share your experience, please leave a comment below. I love hearing from you all!
Whatever you do next, I wish you nothing but the best =)