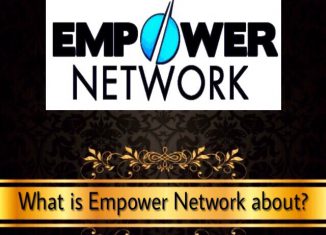 If you have been looking to earn money online or to start an online business, you may have heard of Empower Network before. 
Is Empower Network a scam? Can you really make money with it? Who is it for? How much does it cost? 
I'm going to be covering these questions and more in this review. 
.
Empower Network review
---
Name: Empower Network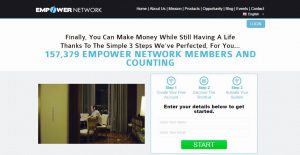 Website: www.empowernetwork.com
Founders: David Wood & David Sharpe
Created in: 2011
Who it is for: People who like MLM and have money to invest
Price: from $25 to $3,500
Overall Ranking: 42/100
.
What is Empower Network?
---
Empower Network is a network marketing & digital business platform that apparently enables their members to make money online without dealing with the technical and most common challenges that most folks go through when it comes to starting a home based business.
They offer digital services, marketing training products as well as a blogging platform, which are supposed to help people who want to start a business and also help people who already have one. They also have an affiliate program that pays commissions to EN members. 
What does Empower Network include?
---
The products and services included in Empower Network is what I'm going to explain in this section, as well as the price for each of them.
Core products
---
Kalatu Basic

.

 

This is a blogging platform designed by marketers for other marketers. This product includes a fully set up blog, hosting, multiple website themes to try out, an SEO tool, training videos & lessons, social sharing features, an built-in email follow up system and a revenue tracking system. You cannot access to other Empower Network products without the Kalatu Basic. Price: $25 per month.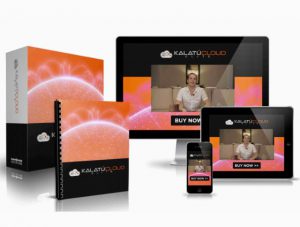 Inner Circle Membership

. This product includes a collection of audios about the entrepreneurial mindset and marketing training. You'll learn strategies and techniques to get more leads and generate more sales, you'll get to know how to reach a positive mindset and you'll also be inspired from the stories of other entrepreneurs that are already achieving great results. Price: $100 per month.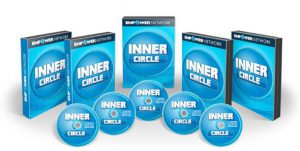 Top Producer Formula

. This product has 12 hours of video, 42 pages of online instructional manuals and step-by-step guidelines about advanced marketing strategies so you can implement them and take your business to the next level. Price: $500 (one time payment). 
Team Building Formula. This is the product that includes a set of video modules about everything related to building a team. It's especially designed for people who are in the MLM business and struggle with recruiting and want to multiply the growth of their downline so they can increase their income. Price: $1000 (one time payment).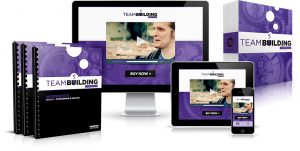 Mass Influence Formula. This product is supposed to have its main focus on helping you attain sales in an easy and fast way so you can grow your business and take it to the top. Price: $3500 (one time payment).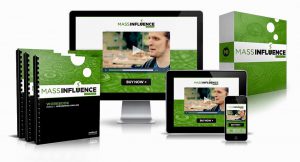 Specialty products
---
Kalatu Premium

. Basically it's the same as the Kalatu Basic but it also includes premium plugins, premium themes, up to 10 blogs, 7-minute blog hacks, live Q&A webcasts and media hosting. Price: $72 per month.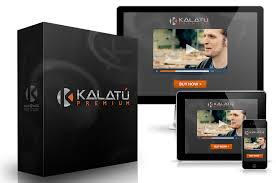 Unstoppable Dream

. This product is designed to help you brand yourself, build your audience and drive traffic. Price: $197 (one time payment).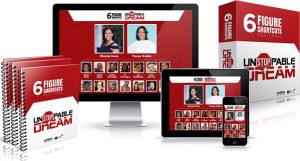 Media Hosting. It's a service that allows customers and affiliates to upload and host their own videos, which can be used with the Kalatu Basic or other methods. Price: $25 per month.
Affiliate program
---
The affiliate program is optional. It enables members to sell the EN products and services that I've mentioned before (except the Media Hosting service) and get commissions when they make a sale. It also includes marketing data and tools to keep track of sales and other statistics. It is required to pay $19.95 per month in order to participate (it can be refunded within 14 days after the purchase, only the first month).
.
Does Empower Network offer any support?
---
When it comes to support, EN gives you the opportunity to search through the topics you need help with or you can also contact the support team by filling in a form. 
Furthermore, there's the option to connect with the Empower Network's team through social media platforms like Facebook, Twitter, Instagram… 
.
Pros & Cons
---
In this section I'm going to explain what's cool about this program and what's not that cool.
.
Pros
---
There are big commissions to be made (70% of the product's price).
Opportunity to earn residual income.
14-day money back guarantee after purchasing a product.
.
Cons
---
You can't get started for free. Wouldn't it be amazing to try it without spending a coin? I bet it would, but unfortunately there's no free membership or free trial.
You must pay a minimum of $44.95 a month to sell their products. It's a requirement that you pay $25 a month to have your Kalatu blog and another $19.95 to become an affiliate and promote EN products. 
Over-complicated commission structures.
They push you to join the program. See what I mean below: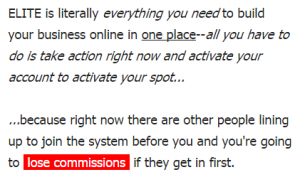 They're referring to the Kalatu Basic (the first product) with ELITE. I don't like the fact that they say that you'll lose commissions if you don't join the program before other people, since they're creating a feeling of scarcity and that's a tactic that scammers use to make people join their scheme. If you have read my post about tips to spot scams online, you may know what I'm talking about.
Too many upsells. Don't you think that upsells are annoying? 
You need to spend a lot of money to succeed. You'll be encouraged to pay for Empower Network's expensive products before you see any return over your investment, since you will need to have the knowledge about online marketing and how to make money. 
It's a MLM opportunity. I'm not saying that MLM is bad at all, but take into account that 90% of people who get involved in MLM/Network marketing fail.
The blog. You have limited control over your EN blog, since a lot of them have EN banners & adverts that you can't get rid of. I consider it's a better option to start a blog with WordPress or you can even have it for free with Siterubix! 🙂
.
Who is Empower Network for?
---
I recommend this program to people who already have experience in the online business world or the network marketing industry. I also think Empower Network is for those who don't fear risks, have a lot of money to invest and are committed to hard work.
However, if you're a beginner, don't have much money to invest or have had a bad experience in MLM before, then forget about Empower Network!
.
My final conclusion
---
Is Empower Network a scam? If you're still wondering this, let me tell you that Empower Network is not a scam, but it is definitely not for everyone. I don't consider Empower Network to be a scam because they do not fail to pay commissions to their members and they have products to sell. However, this program is a MLM scheme because you need to refer people into the program and they'll have to sell EN products so you can make big commissions. 
If you're a newbie and want to start an online business but are on a low budget, then Empower Network is not for you. You will have to invest like $5000 on the EN products before you start earning money with this program. Why? Because you first need to learn the skills to do so.
Let's say that you have $5000. Would you invest it all in the Empower Network program? I don't know what you would do but I believe there are better places to spend it. 
The good news is that you don't need to spend this significant amount of money to start making money online. You can get started for free! Doesn't it sound amazing? 😀 
The program I recommend allows you to get a free membership that includes everything you need to start an online business. This place is called Wealthy Affiliate and I recommend it over any other online program. It's not a MLM or a get-rich-quick scheme, basically it's an online business platform & community where you will learn to create and grow a digital business through step-by-step courses. 
As I mentioned before, you can join for free or you can read my full Wealthy Affiliate review if you want to know more about it.
I hope this review was helpful to you and now you know if Empower Network is the right program for you or not. Please don't hesitate to leave a comment below if you have any questions or suggestions, it will be a pleasure for me to connect with you 🙂 Thanks for dropping by!