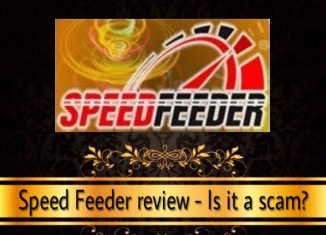 Welcome to my Speed Feeder review!
Perhaps you've landed here because you've recently heard of this program or you have been searching how to earn some cash online.
There are so many companies and programs coming out daily so it can be hard to know which ones are legitimate and which ones are pure crap.
Want to find out what's this program all about? Are you looking to know whether it can be beneficial for you or not? If yes, you've come to the right place 🙂 
.
Speed Feeder review
---
Name: Speed Feeder

Website: www.speedfeeder.net
Founder: Clay Montgomery
Created in: 2016
Who it is for: People who love getting into each new "make money online" opportunity
Price: $100
Overall Ranking: 24/100
.
What is Speed Feeder about?
---
Speed Feeder is one of the latest MLM online programs that has been getting a lot of attention lately.
I've noticed a lot of marketers promoting it on social media. I clicked a referral link and was sent to the official site, where the creator of the program, Clay Montgomery, presents the opportunity and talks about the mission he has with it.
Clay Montgomery says that he launched Speeder Feeder because he had noticed that there were a lot of people who loved the businesses opportunities he's been involved in but couldn't join because of the high starting costs associated with them.
In short terms, Speed Feeder is supposed to help people who want to get started in the online business world but are on a low budget. Doesn't it sound good? I bet.
Well, another thing to take into account is that Clay Montgomery has been implicated in MLM programs like Empower Network and Digital Altitude, as well as ponzi schemes like Infinity 2 Global.
.
How does Speed Feeder work?
---
Wondering if Speed Feeder can make you money? Let's see how it works.
Speed Feeder consists on 3 stages of 2×2 matrix. 
In order to join, you'll have to pay $100. Then, you'll enter the stage 1 2×2 matrix, which has 6 positions to fill. You'll need to get 2 people into the program, and those 2 people will have to recruit two other people each one. This way you'll have completed stage 1 and you'll receive a $320 paid entry into stage 2.
You'll need to do the same to complete stage 2 and stage 3.
Completing stage 2 will give you a $100 commission, a $100 paid re-entry back into stage 1 and a $980 paid entry into stage 3. Your recruiter/sponsor will receive a 100% match on your $100 commission.
Once you've completed stage 3, you'll get a $1,850 commission, another $100 paid re-entry back into stage 1 and your sponsor will receive a 100% match on your $1,850 commission.
After completing the 3 stages, you'll have received a total of $1,950 in commissions plus 2 paid re-entries back into stage 1.
As soon as your first 2 referrals do the same as you and complete the 3 stages, you will earn a 100% match on each of them, that will be $3,900 and a total of $5,850. You'll earn a 100% match on everybody you personally sponsor including their re-entry positions.
.
What does Speed Feeder include?
---
Once you join Speed Feeder, you'll have access to an Internet marketing training library that includes 41 products plus 4 bonuses. These products and bonuses are all about email marketing, video marketing, SEO, traffic strategies, sales tactics…
.
.
Clay Montgomery claims that all the products and bonuses included in the membership have a value of $1,645.
However, these products can't be promoted or purchased individually. Members are only able to market the Speed Feeder membership, which is a one time payment of $100.
And guess what that means, the only money coming into the program is the $100 fee that everyone needs to pay to join.
.
Does Speed Feeder offer any support?
---
They have a support center where you can submit a ticket whenever you have any question, you can track the ticket progress as well.

You can also contact them by filling in a form.
Another thing is, they don't have an official page for the program on social networks but you can find Clay Montgomery on Facebook and Twitter.
.
Pros & Cons
---
After talking about what this program offers and how it works, let's see what's cool and not that good about it.
.
Pros
---
Big commissions to be made. You can earn a 100% match on your referrals commissions.
Opportunity to earn passive income. This happens once your referrals and their referrals complete stages 2 and 3.
Internet marketing library. As I said, the membership includes an internet marketing library of products that cover digital marketing topics.
No monthly fees. The $100 one-time payment gives you access to everything within the program.
.
Cons
---
No free membership. They don't give you the possibility of trying things out without spending a coin, what is risky.
No money back guarantee. You can't ask for a refund in case you're not satisfied with the program, as if the fact that you can't try it for free wasn't enough of a risk…
No product to sell. The products included in the internet marketing library are not allowed to be sold, the only thing which can be sold is the opportunity to earn commissions and that's not a real product. 
Recruiting is a must to earn money. You need to entice people to join the program to sustain the scheme. No people who pay the $100 one-time fee, no money to make.

 

Not everybody who enters the program makes money. 

The only people who earn commissions are those who complete the second stage and beyond.
.
My final verdict
---
Is Speed Feeder a scam? In my opinion yes, it is a scam.
Yes, they offer internet marketing products within their training library, but nothing guarantees that it is of a high quality.
Another thing is, there isn't a product to sell so the focus is on getting people to join the program and pay $100. This can be an issue in the long run because there's a finite number of people who can join so it will come a time when recruitment slows down, which will make commissions slow down too.
And guess what, once money stops coming into the program, it will come to an end.
Speed Feeder works just like another pyramid scheme, since the funds invested by new members are used to pay the commissions for members who are in the top level. 
This means that people who entered the program just after it launched are the ones who get to earn the most part of the money invested into the scheme, and the new members are the ones struggling the most.
Wondering why people fall for this kind of scams? Well, scammers usually prey on people's hopes and dreams, and in this case they make people believe that they can get a high return on investment, and while this is possible in other cases, it is not in this case because the business model is not legitimate nor sustainable in the long term.
So what's the point in joining a make money online opportunity that's kind of fraudulent when you can start building your own digital business for free? Yes, I said free 🙂 
There's a platform called Wealthy Affiliate where people are taught to create and grow an online business based on your passions through step by step courses. I let you know that it won't make you rich overnight but in the long term it will be worth it if you're committed to succeed. 
I invite you to register for free (no credit card required) or read my full Wealthy Affiliate review if you want to know more details.
If you decide to join WA, I'll be there to help you out so I look forward to seeing you on the inside 😀 
So now, tell me about you! What are your thoughts on Speed Feeder? Have you heard about it before? Have you been in another program similar to Speed Feeder?
I would love to hear your opinion on this topic, so feel free to leave a comment below. I'll be more than happy to connect! Thanks a lot for reading. 🙂