Hey there!
I guess you're here because you've come across Massive Internet Profits and are wondering whether it's a great program to make money online or just another scam, am I right?
Well, I'm glad that you've done your research before investing in it because you're going to find out the truth about this money making opportunity and will make the right decision by the end.
.
Massive Internet Profits review
---
Name: Massive Internet Profits
Website URL: massiveinternetprofits.com
Owner: "David Garrison"
Price: $97 + upsells
Created in: January 2017
Overall Rating: 21/100
.
---
If you're sick of scams, check out my 1st resource to make money online here!
---
.
What is Massive Internet Profits about?
---
The moment I came across the first page of Massive Internet Profits, I thought it was too good to be true.
They basically claim you don't need any experience or special skills, you can make money from home and while traveling and the best part is that you can make from $1,250 to $5,500 in commissions.
I personally don't like the fact that they ask for your personal information without revealing what this program is about. They mention commissions so maybe it's about affiliate marketing or MLM…
If you complete a form with your name and your email address, you'll get taken to a another page where you can watch a video.
I honestly couldn't help but laugh when I heard that I would earn a buck for each second of the video, like it's not the first time I hear an absurd claim like that.
It just doesn't make any sense that we're going to earn $500 after watching that video as nobody gives away free money and they would even get into huge debt if they had to pay $500 to each person who watched that video.
So this system seems amazing because it's said to:
Work on complete autopilot.

Generate millions of dollars.

Make the sales for you.
Oh, and you're also going to get a millionaire mentor who helps you make your first big commission within 30 days. How cool is that?
It sounds great and all that good stuff but is this really true? Is there something they're hiding? Yes, let's see the truth in the next section.
.
How Massive Internet Profits really works
---
First of all, Massive Internet Profits is not the name of the real program here. Massive Internet Profits is just a page that was created to get you into MOBE (My Own Business Education).
I know this because of the link on their checkout page.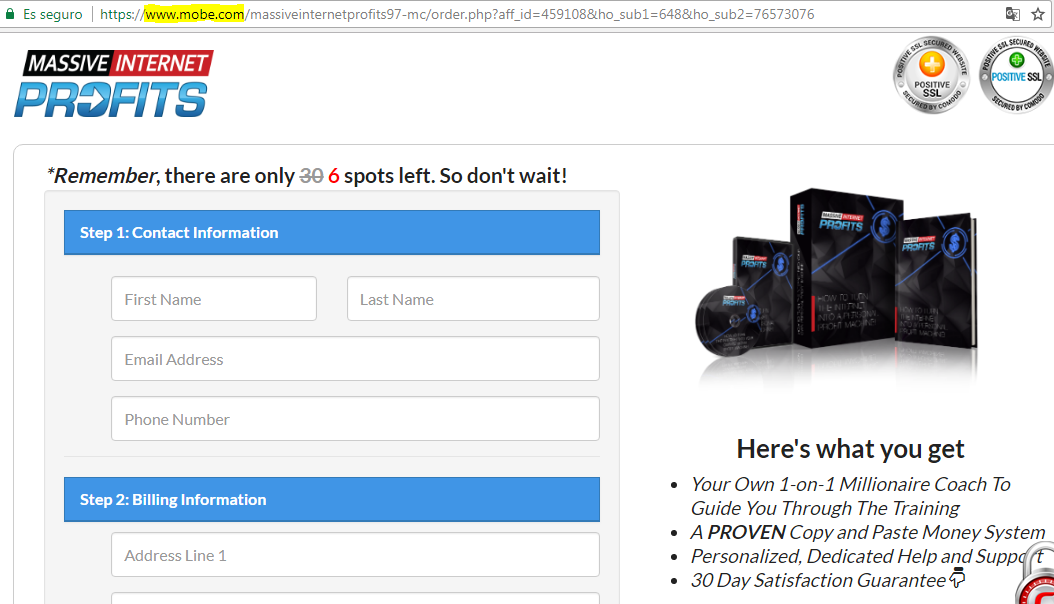 MOBE is a digital marketing program that offers some good training but it's merely focused on getting people to promote MOBE itself, just like other MLM programs.
So after paying the initial $97, you'll get access to a training of 21 steps that will get you started.
Your "millionaire mentor" (these so-called mentors are not always millionaires) will not only guide you through the process, he/she will also try to sell you other MOBE products and memberships.
The thing is, the cheapest MOBE package costs over $2000. Yes, not kidding. Below you can see all the costs of the MOBE packages and memberships:
S

ilver

– $2,497 one time + $27/month or $216/year 
Gold – $4,997 one time + $64/month or $512/year 
Titanium – $9,997 one time + $121/month or $968/year 
Platinum  – $16,667 one time + $198/month or $1,584/year 
Diamond – $29,997 one time + $295/month or $2,360/year 
So in total it costs over $50,000!! Wow. 
In order to earn the big commissions they talk about in the Massive Internet Profits video, you'll first have to purchase those pricey packages. 
The thing is, you're not eligible to earn a commission off a package you haven't purchased. So if you recruit someone who upgrades to a higher package than the one you've bought, the commission will go to your sponsor a.k.a. your millionaire mentor.
In short terms, you'll have to spend a lot of money before making a lot of money. And after spending thousands of dollars on the MOBE packages, you'll have to do what everyone else is doing.
You'll have to recruit other people into the program and get them to purchase the same you've purchased. And they'll have to do the same as you. It's a never ending cycle.
.
Is Massive Internet Profits a scam?
---
I consider Massive Internet Profits to be a scam because it's not a system itself and it doesn't live up to its promises.
The two sales pages and the sales video are full of red flags that I'm going to discuss next.
.
David Garrison is a fake character
---
The man who narrates the video claims to be David Garrison but this is not true. The picture they show of David Garrison is a stock picture, which means that David Garrison is not the real name of the owner of Massive Internet Profits.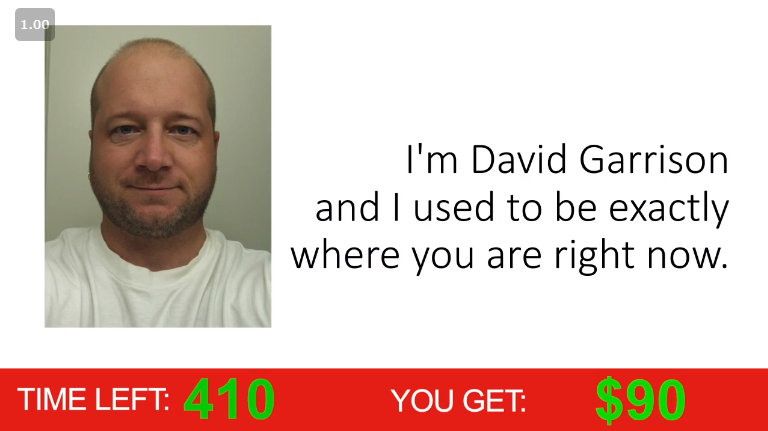 The real owner of Massive Internet Profits might be a MOBE affiliate who is looking to get new recruits, but the fact that he/she doesn't show up tells me that they're not trustworthy.
.
The video testimonials are not real
---
If you've watched the Massive Internet Profits video until the end, you might remember this man below:
If he has managed to earn over 1 million dollars, why does he appear in other scam videos? Lol.
Seriously, I've lost the count of the times I've seen this man in other scam videos. He's a Fiverr actor who seems to do this for a living.
He's appeared in other scams like the Bitcoin Millionaire Club, Free Ad Cash System, Limitless Commissions, Retired Millionaire… 
.
False scarcity
---
The next 50 members thing is completely fake. It's designed to get you into MOBE as soon as possible.
MOBE has been around for some years already, so the spots available are unlimited. 
Apart from that, the $500 guarantee is also BS, the truth is that there's nothing guaranteed.
.
A less risky place to make money online
---
After all the red flags I've found out, there's no way I can recommend Massive Internet Profits.
They lie about the owner, the video testimonials are paid actors, their Facebook comments are completely fabricated (yes, they're fake too) and they're not transparent either. 
They don't mention the real price and the real program (MOBE) they want you to buy. These are not proper business practices in my opinion.
Even though MOBE is not a scam, I will not be recommending because I don't like the fact that they're using scam tactics to get recruits.
Apart from that, it's also very risky as it's a "pay to play" program. It's not for people who are on a low budget or people who don't like the MLM business model.
I also don't like the fact that they want you to believe it will be easy to make money when the truth is that making money online takes time and dedication. You'll not earn anything without working your butt off.
Success doesn't happen overnight. All great things take time to accomplish.
With that being said, if you're committed to doing what it takes to make a full-time income from home, then I highly suggest that you check out my favorite digital marketing platform.
This platform has been around for more than 12 years already and provides step-by-step training, courses and other useful tools that will help you build your very own affiliate marketing business.
There are many things I love about this platform. One of them is that it offers many ways to get support and help so you can rest assured knowing that you can ask any questions and there's always someone willing to give you a hand.
And I also love the fact that you can join without spending a penny. It's great that it's free to sign up because you can see how this platform on the inside without any worries as it's risk free.
If you're interested in learning more, click the button below right now:
It's time that you get on the right way to earn money online!!
I hope you've found the answers you were looking for concerning Massive Internet Profits.
In case you have any questions or opinions, feel free to leave a comment below and I'll get in touch with you soon.
Best wishes 🙂