Hey people!
I recently came across another money-making opportunity called Millionaire Society so I was like "will this one really work or not?".
I thought I would look deep into it to find out what it's really about and write a review to let you all know the truth about this program.
If you've stumbled upon it, make sure you read this Millionaire Society review before you open your wallet.
.
Millionaire Society review
---
Name: Millionaire Society
Website: millionairesociety.com
Owner: Mack Michaels
Created in: 2004
Price: $4.95 + $97 per month or $497
Overall Rating: 38/100
.
---
If you're sick of scams, check out my 1st resource to make money online here!
---
.
What is Millionaire Society about?
---
As it often happens in these kind of opportunities, they start explaining what this is not.
The narrator says he's going to teach you how to make a lot of money without the following:
Facebook marketing

Twitter marketing

Affiliate marketing

Paid advertising

Useless outsourcing

Buying endless products

Financial commitment
This system is supposed to take only 15 minutes to set up an automated Internet business that can make you $720 per day, which is $262,800 per year. That's a 6 figure income so I'm wondering why this program is called Millionaire Society.
The alleged creator of this system, Mack Michaels, claims to have been making a full-time living on the Internet for over a decade so he's developped a system that creates an automated Internet business.
However, he doesn't say what this business is about like what does this business sell to make money?
He claims that you'll get his 15 minute turnkey Internet business system, 135 turnkey Internet business plus 5 new turnkey businesses per week when you purchase Millionaire Society.
Those turnkey Internet businesses are supposed to be professionally written, professionally designed and professionally hand built.
He also says that his system can work for anyone so it doesn't matter your age, the place you live or the experience you have.
At the end of the video he tells you to enter your email address in the form below the promo video. 
If you enter your email then you're taken to a checkout page where you can purchase Millionaire Society for $4.95 for a 7 day trial and then $97 per month. 
I didn't like that sales video because it has a lack of important information. That man doesn't explain what kind of automated businesses you're going to get and what it's included in the Millionaire Society program, so how can we know whether what he offers is worth $97 per month?
He doesn't even tell you how you can contact him in case you have questions, which is a red flag.
.
What do you get with Millionaire Society?
---
The Millionaire Society sales video doesn't reveal what you'll get with this program, but then I found another sales page where there's more information about it.
In that sales page Mack Michaels explains his story, which I don't believe to be true because I've read the same sob story in other pages. Let's see what I mean:
As you can observe below, the Millionaire Society's sob story is the same as Auto Home Profits and other scam pages like Automated Daily Income.
So I scrolled down the Millionaire Society's sales page and read that thanks to Millionaire Society:
You'll get access to a library of over 100 video tutorials that teach you what you need to know to make money online.
You'll get access to a database of over 100 turnkey businesses.
You can spend less then 3 hours per day to earn enough money to quit your job (hadn't he said the turnkey businesses would be automated? 😕 ).
There's a video where Mr Michaels shows some stuff that's inside the Millionaire Society platform.
The Rolodex includes some tools and links to pages useful for brainstorming, market research, spy research, organization, hardware and software.
The products section is about the turnkey products or businesses. They're merely books or courses you can download and sell. The problem with this is that you'll be competing with other members who are selling the same products.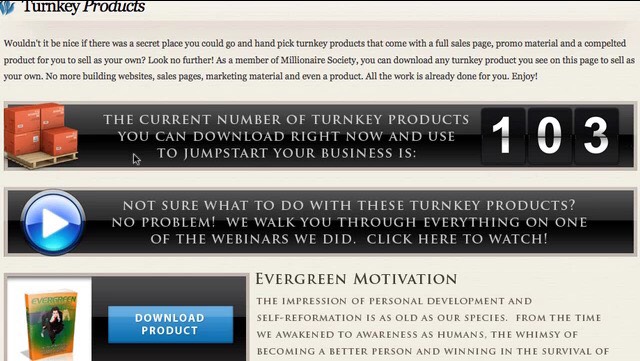 In the library section you'll find video trainings about topics like product creation, affiliate marketing, social media marketing, outsourcing, traffic generation, email marketing, market research… I believe it's pretty good stuff.
What I don't like is that in the other sales video I talked about in the previous section, he claims that he will show you to make money online without affiliate marketing, outsourcing, Facebook marketing… But then we can see that the training is about that. He kinds of contradicts himself.
Another thing is, in the second sales page I found, the price is $97 per month or $497 one-time payment instead of $4.95 for 7 days and $97 per month. Why can't he post all the prices and payment options in the same page? It's kind of confusing, in my opinion.
.
Is Millionaire Society a scam?
---
To be honest, the second I came across the Millionaire Society sales page, I thought it was a scam because it has that scam vibe (a sales video + flashy words), but after doing my research I reached the conclusion that Millionaire Society is not a scam.
With that being said, there are some red flags that you need to be aware of.
It's not possible to verify the owner's identity. The owner claims to be Mack Michaels, but there's no way to verify whether that's his real name or not because he doesn't show any picture of him and he doesn't even tell us which other place on the Internet we can get in touch with him. Something that makes me think he's an invented character is the sob story, since it can be found in plenty of scam pages around the net.
He claims that you won't need to work hard to make money. This is a very unrealistic claim, we all know that it takes a lot of hard work and patience to generate an online income.
He claims that you can make $3000 per hour. This is too hyped up and it's not real to make $3000 just for setting up 100 businesses. Businesses require real effort to maintain and you'll also need to come up with new ways to improve the product or service you offer. Apart from that, all businesses are different so they can't make the same amount of money.

He claims that there are limited spots available and that the price will go up. I don't think it's true because this program has been around for more than 10 years, and it's still for sale, so the spots available are unlimited. That's an old trick used by scam artists and unethical marketers to get you to purchase their product ASAP.
The Millionaire Society's Facebook page is outdated. As you can see below, the last time the posted on their Facebook page was back in 2012, which is an indication that their training might also be out of date.
.
My final conclusion
---
Millionaire Society is not a scam because you actually get some training in exchange of your money. However, I believe it's kind of overpriced, you don't need to pay $97 per month when you're just starting out.
Even though you can't try it for free, they offer a 60-day money back guarantee. 
However, I won't be recommending this program because the training is outdated and you can learn to earn a living online for way less than $97 per month.
I also don't like the fake and overhyped claims made on the sales pages, and the fact that we don't know the real identity of the Millionaire Society owner makes me believe this program is not 100% genuine.
They don't explain that you'll actually need to work really hard and be very patient to make a full-time income online, which is a big red flag because most programs and systems that claim that you'll make money fast are scams or low quality products.
If you're committed to generating an income online, there's a digital marketing platform that you'll love.
This platform will let you start for free without asking you for your financial information. This is great because you can join without spending a penny and see if you like it.
What you'll get inside the platform is step-by-step training and courses that will teach you to build your own online business from scratch, the proper way.
Another thing I love about this platform is that it's full of bloggers and online entrepreneurs who will support and help you with any questions or issues you may have.
Moreover, the owners of this platform are constantly improving and updating the training and other features inside the platform. They've been doing it for 12 years already!
If you're interested in learning more about my top recommendation, click now the button below to read the detailed review I wrote about it:
.
I hope I've helped you with this Millionaire Society review and you have enough information to make a good choice. Don't hesitate to share it on social media so more people can benefit from this review.
If you have any questions, want to share your opinion on Millionaire Society or another online product/program, feel free to leave a comment below and I'll be very glad to connect with you.
Best wishes! 🙂