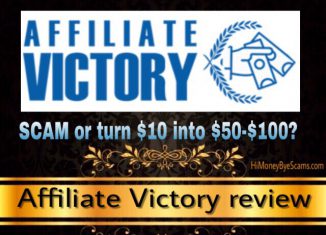 Welcome to my Affiliate Victory review!
Have you come across Afffiliate Victory (affiliatevictory.com) and wondering if this program will finally help you become financially free? Or is Affiliate Victory a scam that will leave you with less money than you have?
I'm glad that you've taken the time to do your research because there are too many scam programs out there, so you need to be careful and know what you're really in front of.
Here in this review, I will show you what Affiliate Victory is really about, how it works and whether or not it can benefit you.
.
Affiliate Victory review
---
Name: Affiliate Victory
Website URL: affiliatevictory.com
Owners: Stefan Ciancio, Greg Kononenko and Branden Pierce
Launched in: March 2018
Price: $17 + upsells
Overall Rating: 5/10
.
---
If you're sick of scams, check out my 1st resource to make money online here!
---
.
What is Affiliate Victory about?
---
Affiliate Victory claims to show how you can earn $50-$100 in passive income per day by only investing $10.
This means that for every $10 you invest, you can have a ROI (Return On Investment) of a 500-1000%. 
This method seems so simple because it doesn't require you to:
Have any experience or special skills.

Do any SEO (Search Engine Optimization).

Create your own products.
According to them, this is 100% newbie-friendly so it sounds like this system will finally enable everyone to earn a living online.
They make it sound like it's easy to make money doing this but the truth is that it's not this simple.
The Affiliate Victory sales page is just like most JVZoo products sales pages, which are very long but say very little about what you will have to do to make money.
That's why I'm here to tell you how this really works and why it's not the best method to earn money online.
.
How Affiliate Victory really works
---
Affiliate Victory is about earning money using affiliate marketing, which is a business model I personally use to make money online and have found out it can be very lucrative when used the proper way.
If you're new to the affiliate marketing world, your job as an affiliate marketer basically consists in promoting other people's products to earn commissions.
There are various ways of promoting other people's products, so you can get different results depending on how you do it.
In this training course called Affiliate Victory, they're teaching you to do affiliate marketing using Facebook ads to earn money from ClickBank products.
So what will you have to do? Let's see the steps to take to make money with this method:
Pick a niche (a topic you're passionate about). 

Choose ClickBank digital products related to the niche you've chosen.

Build squeeze pages (a page with a headline, an opt-in form and some quick points with something to offer like an ebook or a guide).

Integrate your squeeze pages with an autoresponder.

Create Facebook ads campaigns to drive traffic to your squeeze page to collect people's email addresses and build a list.

Once you have subscribers, you can send them follow up sequences that contain the affiliate link/s of the product/s you want to earn money from.
And finally, you will make commissions when someone purchases the products through your affiliate link.
This might seem easy and simple to do but the truth is that it's harder than it sounds and there are some problems with this method which I'm going to explain next.
.
Can you make money with Affiliate Victory?
---
Yes, it's possible to earn money using the method explained in Affiliate Victory.
However, this is not as easy as it seems and there are many factors to take into consideration when it comes to the amount of money you can earn and how fast it can happen.
If you're a newbie, you can't expect to make money easily or fast because it takes time to understand your customers and what kind of ads and squeeze pages convert.
With that being said, I believe it's important that you are aware of some of the problems I've found with this method.
.
You can expect a low conversion rate
---
You can't expect a high conversion rate when it comes to the amount of traffic you're going to send to your squeeze page and the amount of subscribers you're going to get.
The reason for this is that people who land on your squeeze page do not know you. I mean, in a squeeze page there's no information about the person who has created it, so you cannot expect many people to give you their email address.
I don't know about you, but I personally wouldn't give my email address to someone who's not transparent about their identity.
That's why you will need a looot of traffic to get a fair amount of subscribers.
.
You can expect a high refund rate
---
As an affiliate marketer, you can join many affiliate networks and can choose the products you want to earn money from, but the network that they're recommending you to join here is ClickBank.
You can find digital products from many categories in ClickBank, but the problem is that there are many low quality products, so you can expect your custormers to ask for refunds.
Therefore, if you want to avoid this, I suggest that you do your research about the product you want to promote and make sure it's a product you believe that will benefit your customers.
If you think about it, you might end up losing money if many of your customers ask for their money back because you cannot get a refund from your Facebook ads campaigns.
That's why you want to ensure your customers are satisfied with the product they've purchased.
Another reason why it's important to promote products that can benefit your customers is to prevent them from unsubscribing from your mailing list. If you send people to scam/low-quality products, you can expect them to unsubscribe from your list because they might get tired of receiving emails that will not help them.
.
Paid traffic is not the best option for beginners
---
If you're starting out and are on a low budget, paid traffic is not the best method to make money because it requires you to do a lot of testing.
Even if Facebook ads are not that expensive, you can't expect your first campaign to be lucrative because you first need to know your audience and find out what works and what doesn't, something that it's not possible to determine in your first campaign.
Keep in mind that there are many factors to take into account when it comes to create a profitable campaign.
So you will need to spend money on various campaigns to get the necessary data and determine what works for you to get the results you want.
That's why doing paid advertising when you're starting out is not the best option and can be kind of risky.
.
Is Affiliate Victory a scam?
---
No, Affiliate Victory is not a scam because you're getting something for your money and the method they're teaching works.
However, there are some problems with this system as I've explained before and I don't like the way they're marketing it because they're not being transparent.
That's why I'm going to point out some of the red flags I've found out and another thing you need to be aware of.
.
The hype
---
The Affiliate Victory sales page is full of overhyped claims that make it seem like it's easy and fast to make money using this method.
For example, the earnings snapshots below:
First of all, this doesn't work on autopilot because you need to keep driving traffic to your squeeze pages to get enough subscribers and turn them into customers.
As I said earlier in this review, this method requires you to do a lot of testing to find out what works and you also have to keep in mind that you need to constantly learn because what works today might not work in the future.
That's why there's no such thing as setting up this system and then wait for the money to come. This doesn't work like an ATM machine.
Apart from that, you'll need to spend way more than $10 to get good results.
As I've explained before, this method requires you to spend a lot of money on paid traffic to find out what works and what doesn't so don't get too excited when you read that you're not required to spend much money to make a consistent income.
.
Success is not guaranteed
---
No matter the method you try, success is never guaranteed. 
Whenever you read that you're guaranteed to make money, start suspecting because nothing is guaranteed here.
The Affiliate Victory sales page makes it seem like it's easy to get quick results with this method but then, if you scroll down to the bottom of the page, you find this disclaimer where you can read the truth:
.
The upsells
---
Another thing they don't tell you about in the sales page are these upsells (OTOs):
OTO 1 – Case studies pack. These case studies will show you the best results the authors have got following this method. Price: $27.
OTO 2 – Done-for-you pack. This pack includes various done-for-you campaigns, done-for-you squeeze pages, done-for-you ad copies, done-for-you niches and more. Price: $27.
OTO 3 – Reseller rights. This is to get the right to sell Affiliate Victory as if it were your own product and earn 100% commissions. Price: $37 or $47.
I personally don't like the fact that they don't mention the price of these additional packages in their sales page.
I believe they should tell you about it because it would help you make a more educated decision concerning this product.
.
A less risky way to do affiliate marketing
---
My final verdict is that Affiliate Victory is a decent course but I will not be recommending it because it's incomplete. 
A better way for beginners to get start an affiliate marketing business is by getting free traffic to their offers, something they don't teach in Affiliate Victory.
I believe that having your own website, driving free organic traffic to it and building trust with your audience is the way to go if you're looking to build a long-term affiliate marketing business. 
This might take longer for you to earn money but it's way less risky. No matter the way you try to earn money online, you will need to be patient, always keep learning and take action.
There's no easy or quick way to make a full-time income online. When you keep this in mind, you will stop falling for the scams out there. 
If you're committed to doing what it takes to build an affiliate marketing business to make passive income, then I believe that my favorite training platform will be beneficial for you.
This place is where I found the step-by-step training and the marketing tools I've been using to build my affiliate marketing business. Not to mention that I could get started for free =)
I also found a great community full of bloggers and Internet entrepreneurs that I interact with everyday. A lot of people usually share their experiences and success stories so it's a great place to learn and get inspired.
LEARN ABOUT MY TOP RANKED PROGRAM NOW!
I hope you've found the answers you were looking for regarding Affiliate Victory and you will end up making the best possible decision.
In case there's something you want to know that I haven't explained or you want to share your opinion, don't hesitate to leave a comment below and I'll get back to you soon!
Best wishes 🙂