Hey y'all!
If you've stumbled upon Home Wealth Business and are wondering if it's a scam or a legit opportunity to make money online, you're in the right place because I've looked deep into it just to write a review and let you all know the truth.
In this review I'll be explaining what Home Wealth Business is, what you can expect from it and more.
Let's start this Home Wealth Business review!
.
Home Wealth Business review
---
Name: Home Wealth Business
Website: https://www.homewealthbusiness.com/
Owner: "Brian Thompson"
Created in: 2017
Price: $47
Overall Ranking: 10/100
.
---
If you're sick of scams, check out my 1st resource to make money online here!
---
.
What is Home Wealth Business?
---
Home Wealth Business is said to be a great opportunity to earn from $759 to $1,387 per day online. 
According to the first sales page, you won't have to work more than 3 hours per day, you don't need any previous experience or special skills and you can do this from your laptop or smartphone. 
Even though it sounds too good to be true, I wanted to know what this system was really about so I completed a form with random information just to watch the "never before seen video".
The fact that they ask you for your personal information like your name, your email address and your phone number before explaining what this system is about is a huge red flag and it's not the first time I come across pages like that.
Why do they need your email address or phone number if it's not guaranteed that you're going to purchase that program? This is very common among scam sites as they don't only want you to purchase their crap, they also want to know your email and phone in order to sell it to other scam artists and to be able to contact you to sell you other scam systems.  
That's why I don't recommend that you give away your personal information before knowing what you're dealing with.
In the Home Wealth Business second page, you can watch a video where a bunch of testimonials claim to have massive earnings of $3000 per day and others claim to be millionaires. 
You're told that you've just hit the jackpot so that you feel like you've won the lottery lol. You're also introduced to Brian Thompson, who claims to be the creator of this amazing system.
The Home Wealth Business sales video is very similar to other scam videos I've come across in the past. They show pictures of mansions, exotic places, cars… anything related to the fancy lifestyle and they also focus on how much money you can make with little to no work.
This wouldn't be a problem if they explained what you're getting with this program, but essential information is not covered so that's why I believe this system is not what they claim it to be.
.
Is Home Wealth Business a scam?
---
Home Wealth Business is a scam, in my opinion. I haven't given it a 0 because I haven't tried it, but there are some reasons why I believe it's not worth it.
The two Home Wealth Business pages are full of red flags that you need to be aware of because that's what tell us that this program should not be trusted.
.
Not enough information about Brian Thompson
---
The guy who narrates the Home Wealth Business sales video claims to be Brian Thompson but he doesn't show up so there's no way to verify his real identity.
He claims to be one of the top affiliate marketers and an online millionaire. He also says that you probably have not heard of him and he likes to keep it that way.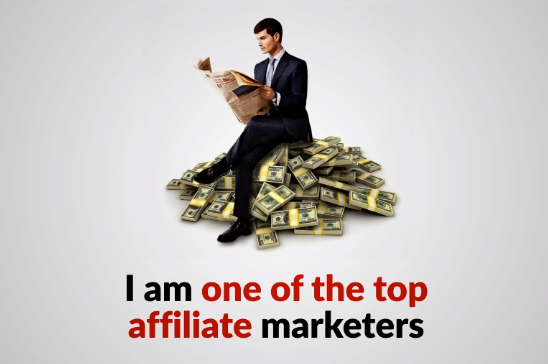 The fact that he doesn't tell us anything about his businesses (apart from Home Wealth Business) and doesn't say how we can get in touch with him makes me think that he's a made up character used to promote Home Wealth Business.
I believe the man who narrates the video is a voice actor that has been paid to recite the sales pitch the scam artists behind this program have invented. Anybody can record a video or a voice note and claim to be someone they are not.
.
Fake testimonials
---
In the Home Wealth Business first page you can read some comments from people who are supposed to have tried this program.
However, those comments are invented and the pictures have been purchased or stolen from other sites. I'm sure that those people who appear as testimonials don't even know their pictures have been used in a scam site.
Take a look at this one below:
Her real name is not Nancy F., the woman who appears in that picture is Sheila Mollow and has a LinkedIn profile:

The video testimonials are also fake. They're paid actors that can be found on outsourcing sites like Fiverr. Scam artists usually give these actors scripts to recite and then pay them a small amount of money like $5.
.
They use pressure tactics
---
They pressure you to join by saying that the number of spots available are limited. 

You know that is completely fake because you can check out the page later and see that there are still spots available. The truth is that they want as many people as possible to purchase that program.
.
Too much hype
---
They show a lot of pictures related to the luxurious lifestyle: inflated accounts, mansions, 5 star hotels… 
They do that with the purpose of getting you to start daydreaming so that you stop thinking rationally and make decisions based on emotions. They also want you to feel envious and upset when you look at your current situation. 
.
What if you buy Home Wealth Business?
---
According to the Home Wealth Business sales video, this program is related to affiliate marketing but they don't say what kind of training you'll exactly get. 
There are various ways to make money through affiliate marketing but they don't explain what way they teach. What they do is to bash some legit methods like content marketing and Google Adwords or PPC. If those methods didn't work, don't you think that nobody would be using them?
I guess they do that to make you think that the methods they're providing work better and don't require you to work hard, yet they don't mention anything that you need to know.
They claim most of the work is done for you and you can start making money right after purchasing that program.
It really sounds like the typical get-rich-quick scheme. I believe that if you pay $47 to buy this program, they'll try to sell you upsells by saying that you need other additional products to succeed. 
You can expect these upsells to cost you way more than $47, hundreds or thousands of dollars. These con artists will try to get as much as they can from you.
Apart from that, if you check out the disclaimer, you can read that no income is guaranteed. 

This is what happens with these kind of crappy programs. They're not created to help you make money, they're created to make money to its creators.
.
My final verdict & recommendation
---
The conclusion I've come across to is that Home Wealth Business is not worth our time or money because the whole sales video and pages are full of lies and hyped up claims. Home Wealth Business reminds me a lot of another scammy program that I reviewed some days ago called The Millionaires Method.
We've seen some red flags that scream scam. I know the idea of earning money online easily and quickly can sound attractive because it gives you hope, especially when you're on a low budget. 
But these kind of opportunities are not real and scammers are always preying on needy people and people who are new to the online business world.
The truth is that making money online is like making money offline, it requires hard work and patience, among other factors. If you don't work your butt off you won't earn a penny. 
My first recommendation is that everytime you come across a system or program that promises you easy and fast money, stay away from it. I wrote an article about tips to spot scams online that you can check out to determine whether an opportunity is a scam or not.
My second recommendation has to do with a digital marketing platform that I highly suggest that you check out if you're serious about generating a full-time income online.
This platform is very affordable (it's free to try by the way) and offers step-by-step training, courses and other tools that will help you start an affiliate marketing business from scratch and take it to any level of success. 
Apart from that, you'll get support and help from other like-minded people who are on the same path as you. There are lots of supportive members inside this platform and there's always someone willing to give you a hand with any question that you may have.
If you're interested in learning more, click the button below now to read the detailed review of my favorite platform:
.
I hope this review has been useful to you and I have answered the questions you had before landing on this post. 
If you have any questions or opinions concerning Home Wealth Business or other online money-making opportunities, feel free to leave a comment below and I'll get back to you really soon.
Have a great day! 🙂