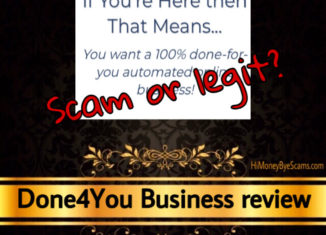 Welcome to my Done4You Business review! 
Are you wondering if Done 4 You Business is a scam system? Or will it help you earn money on complete autopilot?
If that's what you have been asking yourself, I'm glad that you have found this Done4You Business review because here I reveal everything that you need to know about this money-making opportunity.
Knowing that the Internet is full of frauds and they come in so many forms, I'm happy to see that you are doing your own research before taking out your credit card.
That's the way to avoid scams and find the real way to earn passive income every day!
When it comes to Done4YouBusiness, I'm not promoting it for several reasons that you will know if you read this post until the very end.
Instead of promoting this system, I'm here to reveal all the pros & cons, everything they are hiding from you and more so that you can decide for yourself if this program is a good fit for you or not.
Done4You Business review summary
---
Name: Done4You Business
Website URL: cg20.logintosystem.com (such a weird domain, isn't it?)
Owner: Matt
Cost: $3,000 + thousands of dollars in upsells
Do I recommend it? No
---
If you're sick of scams, check out my 1st resource to make a 4-digit monthly passive income HERE!
---
What is Done 4 You Business about?
---
Some days ago I received an email address that came with a link to an apparently awesome money-making system, so I was curious to see what this one was about.
I usually receive lots of emails that are for low-quality or scam programs so I didn't have high hopes for this one.
The moment I saw their landing page, I thought I was in front of another too-good-to-be-true system that wouldn't work.
I mean, the landing page claims that this done-for-you system is paying people $7,000 every two weeks, which sounds too good to be true, in my opinion.
All the get-rich-quick scams and low-quality programs I have come across have similar claims, so that was not a good sign.
But I didn't want to judge it based on its appearance, so I took the time to discover how it really worked.
The spokesman, Matt, claims you only need to run some ads for the checks to start coming in. 
This business doesn't require you to have your own product, you just have to invest in a system that already works and partner with other people who are making money with this business.
He claims this business is all done for you because you get the sales pages, the funnels, the products, and there will be salespeople closing the sales for you.
The fact that you can make thousands of dollars per sale is what will bring you a full-time income. It all sounds awesome because if you make lots of sales, you can make the kind of money that can help you achieve financial freedom and live life on your own terms.
There are apparently lots of people who are looking for these products that will help them start their own businesses, and these products cost thousands of dollars. So you just need to find the right people who are willing to pay that kind of money.
Even if they don't have that kind of money, they can apply for funding if they have a good credit score. So it seems there are multiple people who will be able to be part of this business opportunity.
Does Done4You Business really work?
---
Done4You Business is not the real name of this system, it's a name of a sales page that has been designed to promote this system.
The real system is called Secrets Of The Wealthy, which is a high-ticket program that costs thousands of dollars.
Matt actually explains how this system works, but he hasn't mentioned everything you need to know.
I personally don't like the fact that there's no transparency when it comes to the real program they're trying to sell. I have come across lots of fake sales pages that are being used to promote other programs, and I have noticed that this is something very common with high-ticket programs that end up being illegal pyramid/ponzi schemes.
Anyway, how does this system work? Can you make money with it?
The answer is yes, you can make money with this system but it requires you to do a lot of recruiting. Without recruiting and getting other people to purchase the levels, you won't earn money.
In order to recruit other people, you will have to put up some ads that promote this business opportunity. 
Instead of promoting the products/memberships, those ads promote this system, which means that people are signing up because they want to make money with this system.
People are not signing up because of the products or the services of this system, and this is a problem that I will talk about in a bit.
Everyone involved in this system does the same: you first see an ad, click on it and get taken to a landing page with a sales video, you watch the video, purchase a membership and get told to use the ads to promote this system.
Someone sees your ad, clicks on it and gets taken to a landing page where they can watch a sales video like the one you watched. If they decide to buy a membership, you will earn a commission.
And your referrals will have to do the same and so on. It's a never-ending cycle because everyone involved does exactly the same, which means that there's a lot of competition.
Sick of scams? Want to make passive income every day?
Check Out My FREE Earn Money Online Guide Here!
It's very risky!
---
There are 4 different levels to choose from, and they cost between $3,247 and $21,847. So you can see that this is not cheap!
In my opinion, this is very risky because spending $3,247 on the Gold Level does not guarantee that you will make money.
Why? Because you will be required to spend money on ads!
That's right, the money you need to spend on ads is not included within the membership levels. And it's not a little amount of money that you'll have to spend.
Knowing that the products are this expensive, there are not many people who can afford them, so you can expect to need to spend thousands of dollars to find the ones who will be able to afford these products.
Depending on the membership you choose, you'll be able to make from 50% to 75%, which means that you will need to make at least 2 sales of the package you purchase in order to make your investment back.
In my opinion, this is not a newbie-friendly business because beginners or people who are struggling financially don't have that amount of money to spend.
Their disclaimer says it all
---
The sales pages make this system look like the ideal program to make money online. There are so many testimonials that claim to have had amazing results.
But if you take a look at the earnings disclaimer, you will read that the income claims and testimonials don't represent average results, which means that most people are not earning that kind of money.

They even claim you may not make any money or you can even experience losses, which basically means that this system does not work as advertised.
You see, Matt doesn't mention this in the sales presentation. He acts as if this system was the solution to all your financial problems.
A business opportunity that doesn't benefit most people who get involved is not a good business, in my opinion. There's something in the way it works that it's not right.
Like I said, it requires you to make a big investment without the guarantee that you can make that money back. 
In case you don't have enough money to invest, they tell you to get a loan, which is not a good idea in my opinion.
You know, if you get a loan of $21K, you will not only need to pay that amount of money, you will also have to pay a lot of interest! And if the business does not work as advertised (which is what the disclaimer states), you can get into a lot of debt!
Is Done4You Business a scam?
---
The answer to this question is really up to you to answer, since not everyone has the same definition of a scam and not everyone is in the same situation.
For example, if a scam to you is something that takes your money for nothing, then this program wouldn't be a scam because they give you some training.
If you have a lot of money to invest and don't care about losing it (which I believe it wouldn't be the case for most people), then you probably wouldn't see Done4You Business a.k.a. Secrets of the Wealthy as a scam.
But I believe that most people who get involved in these programs are people who are not in a good financial situation.
There are other people who will take the business model into account to determine if Done4You Business is a scam or not.
For example, there are people who will not call it a scam because it makes it possible to make money. But there are other people who will consider it a scam because most people are not earning money with it.
I don't know about you, but a business that makes most people lose money and only a few ones succeed is not a sustainable business for me.
Note that there's a limit when it comes to the amount of people who can get involved in this business, and there's also a limit when it comes to the amount of money that can come into the system, since there are only 4 levels to purchase.
In addition, most people are joining because of the business opportunity. They are looking to make money with it instead of creating their own businesses.
The training is focused on getting members to promote this system and recruit others, which means that without recruiting there's no money to be earned. 
If they offered a service/product apart from the membership levels, then this business would be more sustainable because it would have more than an income stream. But that's not the case.
This kind of businesses only benefit the people who joined in early, like it happens in other pyramid/ponzi schemes. There are other systems that work like this and got shut down by the FTC, like MOBE and Digital Altitude.
So this business model is not legal, according to the FTC. I personally wouldn't get involved in this kind of business.
Because of everything I have explained, I have to conclude that I do not recommend Done4You Business or Secrets of the Wealthy.
You don't need to pay to play! Here's how to make passive income every day
---
There are so many systems like Done4You Business, but the good news is that there are other ways to make money online that are not that risky.
Truth be told, you don't need to spend thousands of dollars to start making money online.
The business model I'm using doesn't require you to promote the same stuff as everyone else, you will be able to choose what products/services you want to earn money from.
Another great thing is that you won't have to spend money on advertising, since there's a way to drive free targeted traffic to your offers. 
I'm living proof this business works, as you can see in one of my payment proofs below: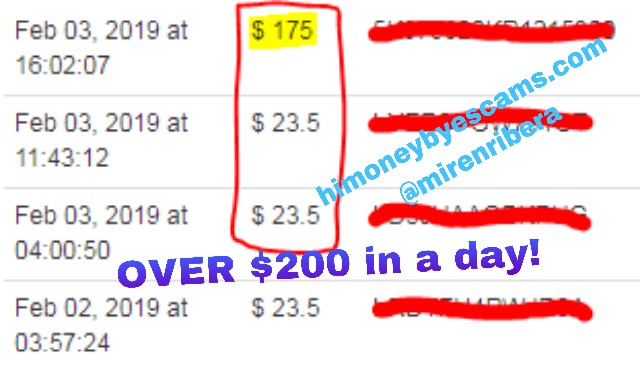 If you're serious about earning thousands and thousands of dollars online, I invite you to check out my FREE guide here: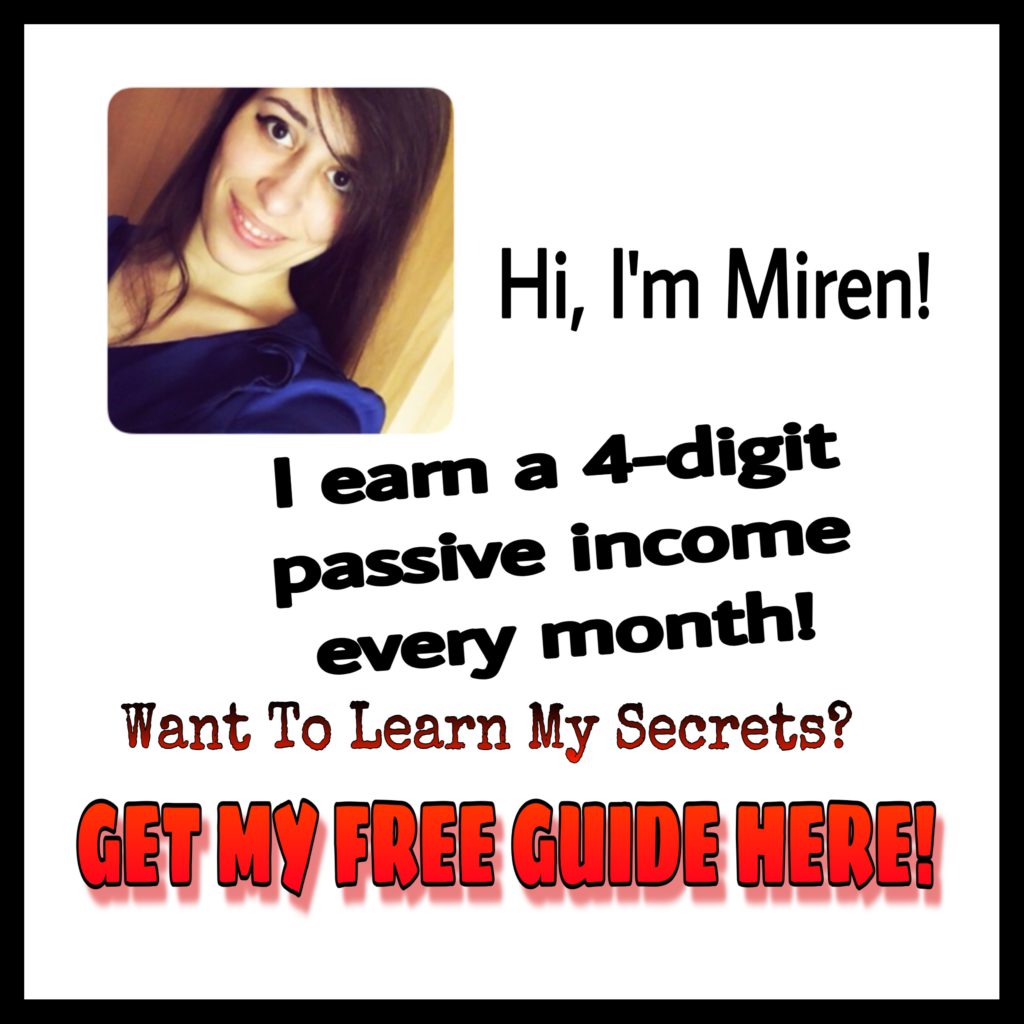 My guide is FREE (no login information required, just click here to start reading it), which means that you have nothing to lose and a lot to gain 🙂
If you read my free guide until the end, you will learn how you can start today for free, what training & resources I have used, the reasons this method works, proof that it works and so on. 
You will also be able to receive help from me and other like-minded people. All the details in my guide!
Stop wasting your time on scams and start your own online business today!
I will leave this quote here:
If you want something you have never had, you must be willing to do something you have never done.
I hope this Done4You Business review has been helpful to you and you will make the best possible decision.
Feel free to share it with whoever you believe that will benefit from it!
If there's something else you want to know or you have any questions about Done4You Business or would like to share your experience, please leave a comment below. I love hearing from you all!
Whatever you do next, I wish you nothing but the best =)