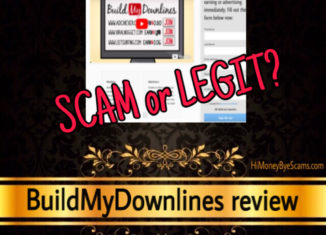 Welcome to my BuildMyDownlines review!
Are you wondering if buildmydownlines.com is a scam? Or is it a legit website that will help you build your downline? Will it help you get paid to join free websites?
If you have questions like these, you have found the right buildmydownlines review because here I reveal everything you need to know about this money-making opportunity.
Like you already know, there are so many scams out there, so I'm happy to see that you're doing your own research before getting involved in another program.
That's the way to avoid frauds and find the legitimate way to make passive income every day!
For your information, I'm not affiliated with BuildMyDownlines.com, which means that you will not find any referral link on this post.
In this Build My Downlines review, I will be showing you the pros and cons of this platform, how it really works and other facts to help you determine whether it's worth your time or not.
BuildMyDownlines review summary
---
Name: Build My Downlines
Website URL: buildmydownlines.com
Owner: Darren Olander
Cost: Free to join + upsells
Do I recommend it? No
---
If you're sick of scams, check out my 1st resource to make a 4-digit monthly passive income HERE!
---
What is BuildMyDownlines about?
---
BuildMyDownlines (found at buildmydownlines.com) is a platform that can help people who want to make money online and people who already have a business.
Members a.k.a. people who are looking for money-making opportunities can find websites & businesses to join and get paid for it.
Companies or advertisers can create offers to get referrals, leads or subscribers, depending on what their business is about. They decide how much or how little they pay to each signup.
The concept of this platform seems great because it looks like it can create win-win situations, where members and advertisers win.
There are advertisers who decide to pay with credits and others decide to pay with cash. Members can only get paid via Payza and Bitcoin wallet, once they've reached the minimum payout threshold of $2.
I personally don't like the fact that they don't offer other payment methods like PayPal, since it's an online wallet used by many people all over the world.
There are lots of companies that pay via PayPal, so for me it's a red flag when a company offers little options to get paid and those options are not well-known.
In my opinion, BuildMyDownlines is primarily for people who have a business offer and are looking for referrals or clients, hence the name "Build My Downlines".
For example, if you're in an MLM company, you want to build your downline because the more people you recruit, the more sales you can make.
But will those referrals convert? Is it quality traffic?
How does BuildMyDownlines really work?
---
In order to get started, you need to fill a form in the buildmydownlines.com website to join for free.
I personally came across BuildMyDownlines because I saw some ads on Twitter, so I clicked on an affiliate link to sign up.
Something I didn't like is the fact that they have the same sign up form for everyone who wants to sign up. Knowing that BuildMyDownlines is a website for members and advertisers, I believe there should be a form for each group.
But anyway, after registering for free, I got hit with an upsell. I don't like the fact that Darren claims this offer is special and that I'll only see it once because I've heard this kind of claims in lots of scam pages.
Scammers want buyers to buy on impulse, so I don't like it when I come across this kind of pages. They simply don't give me good vibes.
This BuildMyDownlines upsell is called Silver upgrade, and it costs $14.97 a month. This is for advertisers who want to send their email ads to active members within the BuildMyDownlines platform. Anyone who upgrades can earn 50% commissions if they refer other paying members.
If you reject this upsell, you'll be taken to the members area. You'll receive an email to activate your account and once it's done, you can start finding and submiting offers.
What if you join as an advertiser?
---
If you have a website or a business you want to promote and sign up as an advertiser, you'll have to:enter the details of your business opportunity and your website URL or referral link, and you'll also have to enter an amount of money or credits you want to pay to anyone who joins.
Once it's done, you'll have to deposit some money for your ad to go live. If you have bought their Silver membership, you'll be able to promote your offer to active BuildMyDownlines members. 
If someone finds your offer and decides to sign up, you'll pay some credits or money and it will be deducted from your account.
It doesn't sound complicated, right? But there are some downsides that you need to know and I'm about to discuss in a moment. 
What about joining as a member?
---
If you want to earn some money without having to pay, you can join BuildMyDownlines for free to find opportunities to join and receive a little reward.
Inside BuildMyDownlines there's a list of websites that you can join. Not all of them are MLM companies, but most of them are related to making money online.
You need to be careful with these sites and offers because there's no guarantee they're legit. I recommend that you always do your research before joining them.
Just because you can receive some credits or cents for signing up, it doesn't mean they're worth it because there are companies that take advantage of people's information.
Another thing I want to point out is that if you know what website or company you want to join, you probably will not find it because there's not a huge number of offers available.
You'll also be receiving some emails about other offers, so I recommend that you do your research before joining. There are some offers that come with false advertising and false promises so you need to be careful, you know there are so many scams and low-quality programs.
In case you find websites that you have already joined before joining BuildMyDownlines, you'll not be able to join again.
Sick of scams? Want to make passive income every day?
Check Out My FREE Earn Money Online Guide Here!
Some downsides I found
---
I noticed that most of the opportunities don't offer cash as a reward, and earning credits just gives you the opportunity to list your own website or opportunity, but most credits don't pay enough for you to get lots of sign ups.
Another thing you need to know is that there are many opportunities that are not free to join, so if you join just to earn a reward you could end up spending more than you have earned.
I personally only recommend that you join a company or business opportunity if you believe in it and are sure it's rigth for you.
In case you advertise your business opportunity, you need to know that paying for referrals goes against the rules for most companies, so it's kind of risky to pay for referrals because you run the risk of getting removed from the company you promote.
The owner is a real person
---
Whenever I review a company or a business opportunity, I like to know who has created it because it helps me determine whether it can be trusted or not.
In the case of BuildMyDownlines, it has been created by Darren Olander, who has been in the Internet marketing space for years and also has a website.
For me, this is a good sign because it means that the creator is revealing his real identity, something that scammers don't do. Scammers usually hide their identities to avoid getting sued, fined or persecuted.
The fact that he has a website and YouTube channel is also a good sign because it means that there's a way to contact him and know him better.
Something I didn't like is the fact that he's not allowing comments on the video about BuildMyDownlines, since it's always good to know about other people's experiences.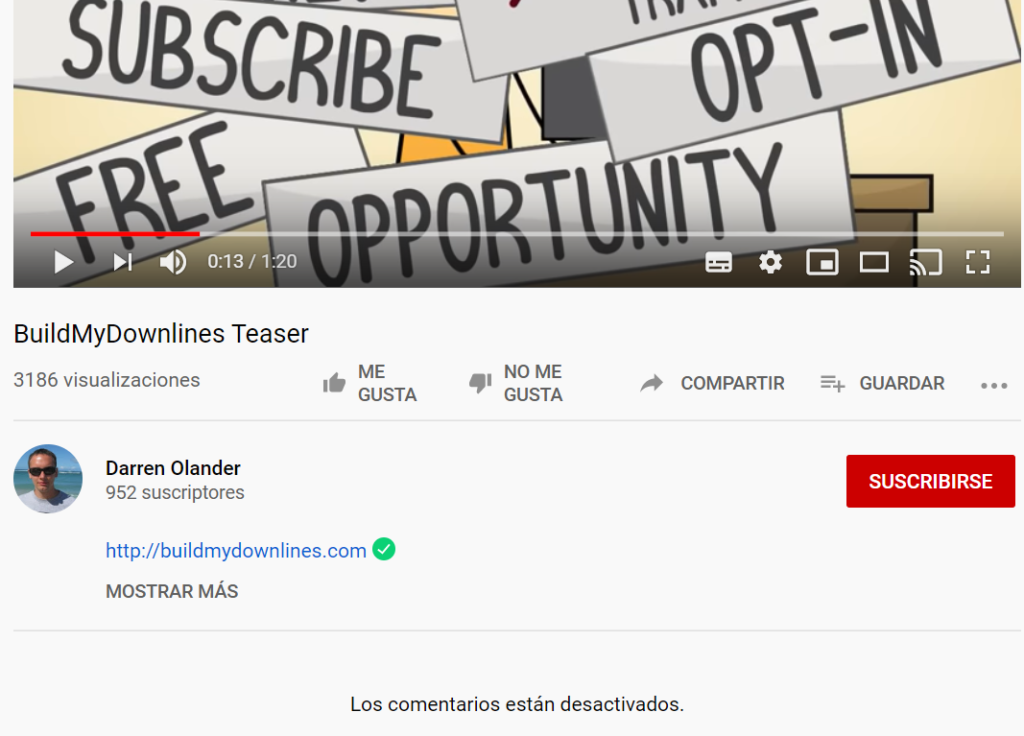 Another thing I have noticed is that he doesn't have many subscribers on YouTube or likes on his Facebook page, taking into account that he claims to have been online since 2002.
BuildMyDownlines.com is not a new website
---
Knowing how long a company or website has been online is always good to determine if it's reliable or a fraud.
In the case of BuildMyDownlines.com, I got surprised when I found out that it has been around since 2008! Many of the websites and companies I review have been online for a little period of time, and this is the case with scams too.
Scam websites don't tend to last because they end up getting shut down, many of them don't even last a single year.
Build My Downlines, like my favorite online platform, have been around for more than 10 years. The more years a company has been around, the more likely it's legit.
Something I don't like about buildmydownlines.com is the fact that the platform is not secure, since it doesn't have an SSL certificate. This is something that would increase trust so I hope Build My Downlines gets an SSL certificate in the near future.
Is BuildMyDownlines a scam?
---
No, I don't consider BuildMyDownlines a scam because it works as advertised, even though it has some potential problems that I've mentioned.
If you join as a member, I recommend that you only join websites that you have already researched and are legit. I don't recommend that you join websites just to receive rewards.
In case you join to advertise a business opportunity, you need to take into consideration that many of the members who join a.k.a. the referrals you get probably won't purchase whatever you're selling because many of them simply join to earn a little reward.
So I don't believe advertisers can expect a high conversion rate. Even if you buy the Silver membership and send emails to all members, don't you expect to get lots of paying referrals because most BuildMyDownlines members are not there to spend much money.
In case you want to get referrals for free to join websites like GPT or PTC websites, I believe BuildMyDownlines is a good option because many members are looking to earn free cash.
However, many of the BuildMyDownlines members are probably also members of other GPT websites because they look for different websites to earn free money.
When it comes to affiliates, I believe that the ones who pay for the Silver membership can profit from it, especially if they already have an audience and manage to get paying referrals.
All in all, I believe that the ones who benefit the most is the owner Darren Olander and affiliates.
I don't believe advertisers will benefit that much because many of the members are looking to earn a few rewards instead of buying products/services. There are definitely better ways to get leads and referrals.
And if you're starting out and looking to make money online, I don't believe BuildMyDownlines is worth your time because there's not much money you can earn by joining other websites. There are better ways to invest your time.
Thanks for reading this BuildMyDownlines review! What you decide to do is up to you, but my final verdict is that I don't recommend BuildMyDownlines.
Here's how to better build your downline and make passive income
---
If you're looking to get leads or referrals for your business and don't want to spend money on advertising, I believe you should do content marketing.
This way of getting visitors and leads is free, and the fact that these will be targeted leads will increase your conversions.
Another advantage is the fact that this is the way to make your business sustainable, since content marketing allows potential leads to know you better and this is something that increases trust.
You will be helping your visitors and making money as well, it's a win-win situation, pretty cool right? And you can do it as many times as you want.
Instead of relying on third party tools or services like BuildMyDownlines, it's best to attract your own visitors if your goal is to make your online business long-lasting.
In case you're starting out, I believe this is a great business model for you because it doesn't require you to spend money on advertising and you won't have to create your own product.
I personally started with no experience and English is not even my native language, but with time and effort now I'm earning passive income every day.
This is just one of my payment proofs: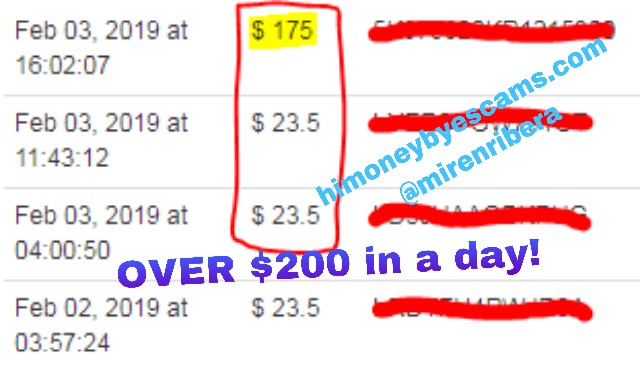 If you want to learn how this method works step-by-step, I invite you to check out my FREE guide here: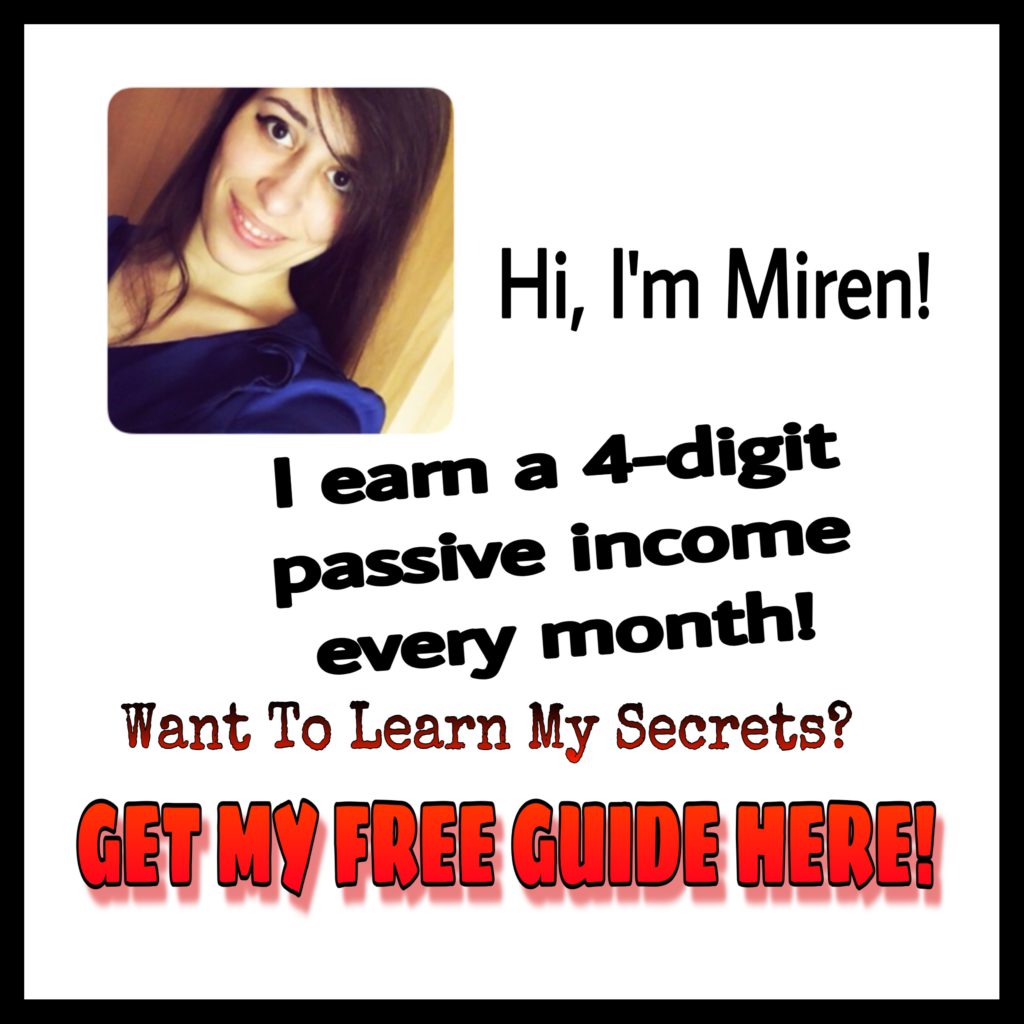 My guide is FREE (no login information required, just click here to start reading it), which means that you have nothing to lose and a lot to gain 🙂
If you read my free guide until the end, you will learn how you can start today for free, what training & resources I have used, the reasons this method works, proof that it works and so on. 
You will also be able to receive help from me and other Internet marketers. All the details in my guide!
Stop wasting your time on methods that don't work and start your online passive income journey today!
I will leave this quote here:
If you want something you have never had, you must be willing to do something you have never done.
I hope this BuildMyDownlines review has been helpful to you and you will make the best possible decision.
Feel free to share it with whoever you believe that will benefit from it!
If there's something else you want to know or you have any questions about Build My Downlines or would like to share your experience, please leave a comment below. I love hearing from you all!
Whatever you do next, I wish you nothing but the best =)